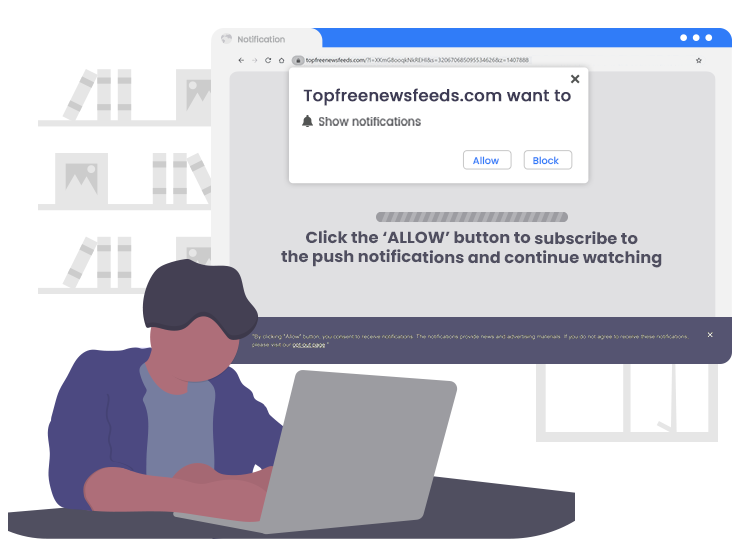 According to cybersecurity researchers, Topfreenewsfeeds.com is a dubious website that uses social engineering methods to trick unsuspecting visitors into registering for its browser notifications so that it can deploy intrusive advertisements straight to your desktop or phone. Clicking on those undesirable ads can trigger the installation of potentially unwanted applications (PUAs), suspicious browser add-ons or extensions, etc.
So, if you already accepted Topfreenewsfeeds.com pop-up ads, then you are strongly suggested to remove the notifications subscription as quickly as possible. Keep on reading to learn how to prevent Topfreenewsfeeds.com advertisements from appearing on your desktop or browser.
What is Topfreenewsfeeds.com?
Topfreenewsfeeds.com is a rogue website that is designed to present visitors with questionable content or redirect them to other malicious sites/ untrustworthy sites. More examples of pages like Topfreenewsfeeds.com are Pesoaniz.com, Nistartedwo.biz, and Goldeneraaudio.org. Typically, users do not visit such webpages intentionally; most get redirected to them by other suspicious sites or by intrusive advertisement campaigns. 
Once visited, these websites display a "Show notifications" pop-up box that attempts to get the user to click on the 'Allow' button.
On clicking the Allow button, users start receiving spam notifications from the Topfreenewsfeeds.com website in the lower right-hand corner of the screen even when the internet browser is closed.
How to Remove Topfreenewsfeeds.com Pop-up Ads from Your PC
Follow the below-listed step-by-step instructions to unsubscribe from the push notifications.
Note: The below-mentioned steps are applicable for the Google Chrome browser. They may vary slightly for different internet browsers. 
Click on Chrome's main menu button (three vertical dots) at the top right corner of the browser window, and select the Settings option.
Navigate to the "Privacy and security" section, and choose the "Site settings" option.
Click on the "Notifications" option.
Click the ellipsis icon on the right-hand side of Topfreenewsfeeds.com and other suspicious websites and then click the "Remove" button.
In addition to this, we urge you to follow the below-mentioned tips for safer browsing on the internet.
Get a powerful antivirus or anti-malware software for your laptop or desktop.
Avoid opening or downloading email attachments from untrusted senders.
Update your operating system and other software programs as soon as updates become available.
Stop using free public Wi-Fi networks.
Take regular backup of your most precious files and folders to cloud storage or external devices.