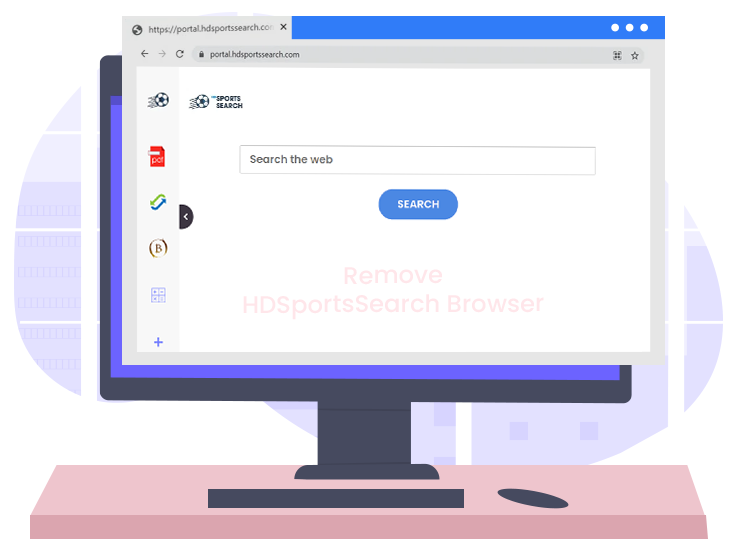 HDSportsSearch is promoted as a useful tool to generate improved sports channel search results. However, in reality, it is a kind of PUP (potentially unwanted program) which belongs to the family of browser hijackers. Following successful installation, it makes modifications to the web browser's settings without the user's permission to promote hdsportssearch.com (a fake search engine).
If you're also one of the unfortunate users whose browser's search queries are being redirected through the address of a fake web searcher hdsportssearch.com, then we suggest you to get rid of the redirect virus as quickly as possible. Keep on reading to know how to remove the HDSportsSearch browser hijacker from your computer in the most hassle-free manner.
What is HDSportsSearch Browser Hijacker?
The IT security experts have determined that HDSportsSearch is a browser hijacker, endorsed as a useful tool for generating improved searches related to sports channels. Typically, software within this classification are developed to modify the web browser's (e.g. Safari, Chrome, and Firefox) settings in order to redirect user web searches to dubious/malicious sites or sponsored ads.
Apart from this, HDSportsSearch browser hijacker is capable of collecting browsing-related and sensitive information (e.g., URLs visited, IP addresses, geolocations, passwords, credit card details, and so on).
There are thousands of such redirect viruses or browser hijacking applications on the web; GameSearcher Pro, Searchnewshighlights.com, Dong Page – are just a few examples.
Common Symptoms of HDSportsSearch Browser Hijacker
If your computer is infected by this browser hijacker, then you may experience the following symptoms.
The existing homepage, default search engine, and new URL tab are changed to hdsportssearch.com.
Frequent redirects to various harmful and phishing websites.
Computer taking so long to load web pages.
Irrelevant pop-up advertisements are appearing in the search results.
How to Remove HDSportsSearch Browser Hijacker from PC?
One of the easiest and most recommended ways to delete HDSportsSearch browser hijacker and restore original internet browser settings is by running an automatic scan with a powerful antivirus or anti-malware software on the compromised system. 
Apart from this, users are advised to follow the below-mentioned tips for secure web browsing.
Read the End-User License Agreement (EULA) carefully before downloading or installing any software.
Do not install freeware from websites that seem suspicious.
Keep your operating system and other installed applications updated at all times. 
Don't open unsolicited or unexpected email attachments.
Don't use the same password for multiple accounts and websites.
Take regular backup of all your important data to external storage devices.