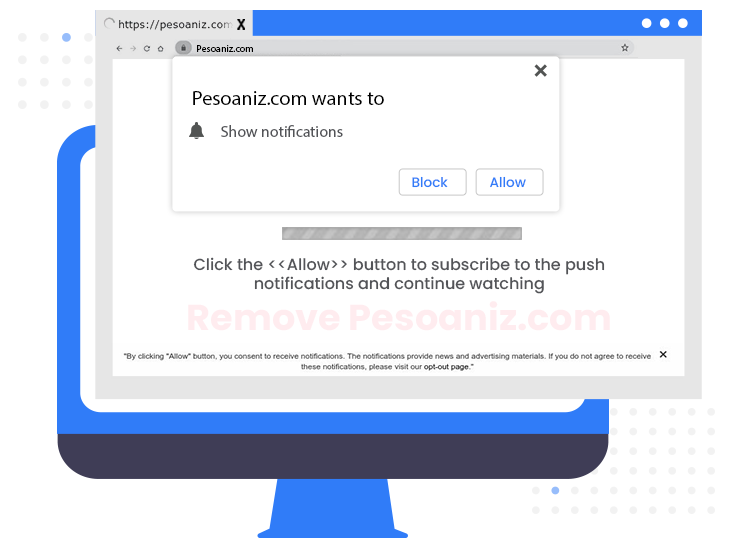 According to IT security experts, Pesoaniz.com is a precarious website that tries to trick visitors into subscribing to its push notifications so that it can deliver unwanted pop-up advertisements directly to the user's browser or desktop. If you're one of the unfortunate users who already subscribed to Pesoaniz.com pop-up ads, then we suggest you to cancel the notifications subscription as quickly as possible. To help you out, we have prepared this detailed guide on how to remove these pop-up ads from PC. Read on to know more.
What is Pesoaniz.com? 
This is a highly vicious website that uses social engineering techniques (for example, clickbait) to lure computer users to sign up for its browser notifications. There are thousands of such untrustworthy/malicious pages on the web; Freshnewmessage.com, Goldeneraaudio.org, Testalloon.work – are just a few examples. 
Users rarely access webpages like Pesoaniz.com on purpose; most get redirected to them by already installed PUAs (Potentially Unwanted Applications), intrusive ads, and other shady websites.
In order to convince users to accept push notifications, such web pages display a 'Confirm notifications' prompt with misleading text like "Click Allow to verify that you are not a robot".
As soon as the Allow button is clicked, all kinds of ads (e.g., pop-ups, banners, notifications, fake software updates, etc.) start popping up in the lower right corner of the screen even when the internet browser is closed.
How to Remove Pesoaniz.com Pop-up Ads from Your PC
Below we have shared step-by-step instructions on how to delete the Pesoaniz.com push notifications subscription.
Note: The below-listed steps are applicable for Google Chrome and they may vary slightly for different web browsers. 
Click on Chrome's main menu button (three vertical dots), located in the top right corner of the screen, and then select the Settings option.
Scroll down to the Privacy and Security section and select "Site settings", followed by "Notifications".
In the Allow section, click the 'three dots' button on the right-hand side of Pesoaniz.com or other suspicious URLs, and then click the "Remove" or "Block" button.
Apart from performing the aforementioned steps, users are advised to follow all the necessary browsing practices to improve the security of online activities and minimize the risk of getting hacked.
Make sure your computer has powerful and up-to-date antivirus/ anti-malware software installed.
Don't open unsolicited email attachments. 
Keep your operating system updated at all times.
Avoid using free public Wi-Fi networks or unknown hotspots.