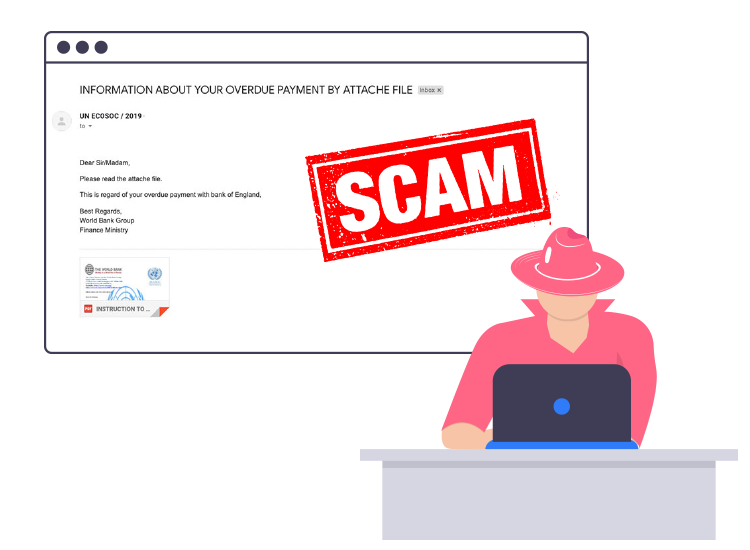 Similar to the majority of fake email lottery scams, this 'United Nations Online Lotto' email scam is intended to deceive recipients into trusting that they have won a huge sum of prize money in a lottery. It is a kind of advance-fee fraud where the cyber crooks behind such spam emails attempt to extract money from phishing innocent recipients by asking them to pay transfer charges or processing fees to claim the winning lottery amount. More often than not, scammers disguise their fake lottery message scams as emails from honest lottery organizations, or other trusted brands and companies. This particular email lottery scam is masked as a letter from the legitimate United Nations. However, the legitimate United Nations group is nowhere associated with this Internet fraud or fake lottery scam.
The Reality behind the United Nations Online Lotto Email Scam
Cybercriminals behind this lottery scam try to mislead victims into believing that their email account's address was randomly selected as a winner of the sum of 10,000,000 US dollars. Cybercriminals behind such scams seek to gather personal details of the targeted users such as full name, phone number, and country code by asking them to reply to an email with the aforementioned information. If victims fall for this scam and reply to the email, the scammers then ask to pay a certain amount of a fee, supposedly a processing or transfer fee, in advance to receive their prize money.
It is strongly recommended to ignore such advance fee fraud or lottery scams. It is beneficial to mention that such phishing emails may contain malicious links to harmful and deceptive websites where victims are asked to input confidential information like banking details, login credentials, personal identification numbers, etc.
How to Identify Lottery Email Scams?
Below are the several ways of identifying a fake lottery scam like United Nations Online Lotto:
Always keep in mind that you if didn't buy a lottery ticket, you cannot win money or a prize in a lottery. There is no such thing as 'free email ticket' draws.
Genuine lotteries will never ask you to pay a processing or transaction fee in advance to claim your prize money.
Email lottery scams will often insist the recipients to keep their win prizes secret.
Most of the fake lottery spam messages often contain spelling and grammar errors.