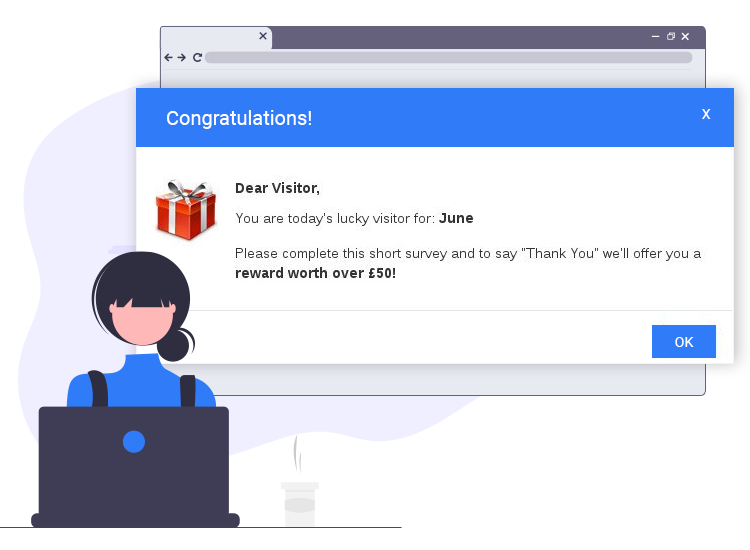 The Congratulations Google User pop-up browser-based scam displays fake messages. This way, it tries to trick users into subscribing to paid services and giving their personal information.
What is Congratulations Google User?
Congratulations Google User is a pop-up scam that tries to make users subscribe to unneeded services. For these, they should enter their personal or banking details.
The group of hackers who try to rob innocent users bring in front of them a message that seems to come from Google. Here is what it says:
"Congratulations! You may be our next lucky winner!" Then, it tells about previous TV/phone/tablet winners. According to the message, the winners are chosen "Every time the 5-billionth search is reached".
Whenever you might see such a message in your browser, it means that a malicious website redirected it or that it is infected with malware or spam notification ads. So, the first thing is to avoid completing the survey and immediately close the browser.
Anyway, if your browser still redirects you to the Congratulations Google User ads, then it's time to take some further steps. Now we will look at how to remove this adware from the browser. 
How to remove this pop-up scam?
In order to get rid of this pop-up scam, you should follow these steps:
Go to Windows settings from the Start menu.
Select Apps.
Now scroll down to search for the Congratulations Google User.
When you find it, click on it and choose Uninstall.
Follow all the screen prompts.
Now, that's it! You managed to get rid of this threat. From now on, you should pay more attention to the websites that you visit. Some of the spam notification ads can hide on less reputable websites. So, try to avoid them as much as possible!
Remember: Good browsing hygiene can keep you away from threats around the internet!