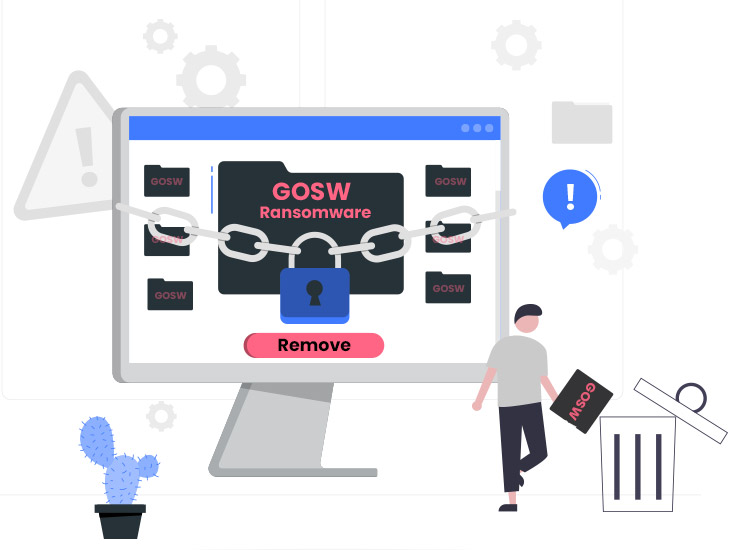 GOSW ransomware is one of the most annoying issues that you may encounter. Ransomware is a malicious program that affects the files on your computer.
It encrypts and locks files on your computer. As it cannot do this to all the files, it can choose the files that its creators built it for.
As this is a random process, users never know if it affects the system or the personal files. If you also are unable to open some files on your computer, keep on reading about it. We will give you tips to remove it from the PC.
What is GOSW Ransomware?
GOSW ransomware is malware. It can affect videos, images, documents, or other files. First, it scans the system for these files. Then, it encrypts them with the "gosw" extension.
Of course, to reach their goal, attackers will then display a message. This offers "the solution" to decrypt the data. But, of course, it is not free.
The affected users should pay a ransom, in Bitcoin, to recover access to their files. The value may vary between 400 and 1.000$. Attackers usually save the instructions for this in a "_readme.txt" file, on the desktop.
If you wonder how the ransomware reached your computer, there are more ways. Remember that spam emails are dangerous. Avoid clicking on any links that you see in messages from unknown senders. Also, think twice before you use cracks to use paid software for free. And always keep powerful anti-malware software on your computer.
How to remove this ransomware?
There are quite many steps to recover access to your files. Still, as attacks evolve all the time, the risk of losing access to your files is always there. So, you are the only one responsible for this decision.
To make sure you would not risk such a thing, you should create a backup for all the encrypted files. One tool we recommend for this is EaseUS Todo Backup Free.
If you still decide to remove the malware, here are the steps you need to take. Remember that if the malware evolved, the risk of losing your files is still there.
The removal process might seem overwhelming. Still, here are the steps to follow:
A. Enter the Windows Recovery Environment:
Select the Start button and choose Settings.
Select Update&Security, then choose Recovery.
Click Recovery in the left menu.
Under the Advanced startup, click Restart now.
B. Go to safe mode:
After the computer restarts, you need to choose a number from the options list.
While in safe mode, download a ransomware removal tool.
C. Use a ransomware removal tool:
We recommend you download a ransomware removal tool. You may find a comparison of the malware removal tools, here.
Double-click on the setup file.
Follow the on-screen instructions to install the software.
Start scanning your computer using the new tool.
Quarantine the malware, adware, or unwanted programs the software detects.
Your anti-malware software starts removing the malicious files and their registry keys. It might ask you to restart your computer.
Once the computer restarts in normal mode, run one more scan using the same software, for safety.
Also, for safety reasons, you may use one more scanner for malware infections. ESET Online Scanner is an option.
How to try to recover the affected files?
Although in many cases, the private key for unlocking the encrypted files prevents the recovery, you can still try a few ways to do it.
Here are the solutions that might help you do this:
A. No more ransom. This initiative belongs to law enforcement and IT security companies. Their goal is to help victims and also stop attackers.
B. EaseUs data recovery wizard. This free solution can easily both restore and repair corrupted files. Still, in the free version you can recover only 2GB of data.
To do this, just:
Download EaseUS Data Recovery Wizard Free.
Open the setup file
Follow all the instructions to install it.
Click the Start Now button
Select the location of the encrypted files.
Perform the scan.
When the program lists the files that it can recover, filter the files that you really need.
Select these files.
Click Recover.
Save the files in a safe location.
Now, your computer should be safe. To keep it like this, always:
Use a strong anti-virus solution, and keep it up to date.
Update your operating system.
Install only apps and programs from trusted sources.
Use an ad blocker.
Always back up your data.
Use strong passwords and change them periodically. Also, activate multi-factor authentication.
Do not click any links that you are not sure about.
Never use pirated software.