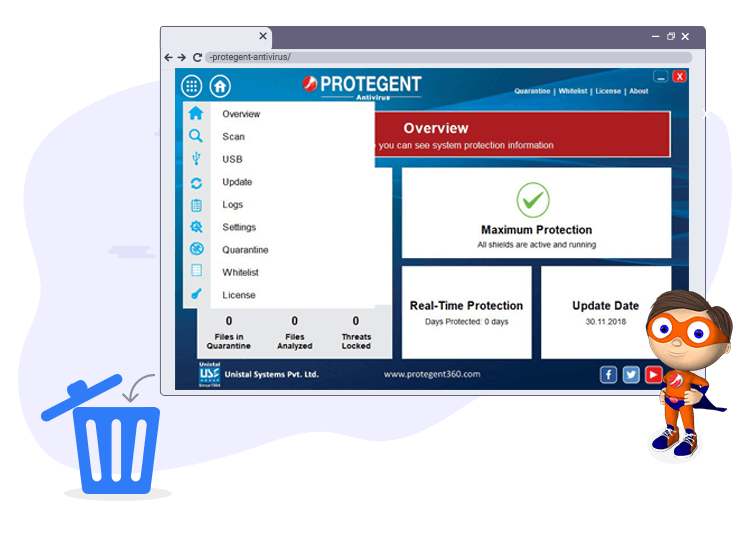 Protegent Antivirus is a program that pretends to be a registry cleaner. Still, it is a potentially unwanted program (PUP), trying to trick users into downloading it. In fact, it might be rarely downloaded from its main website.
A common trick is that its creators use 'Product bundling'. This is a technique that uses a legitimate product to include the PUP in the download setup file. In this article we will let you know how to get rid of such programs.
What is Protegent Antivirus?
As mentione above, Protegent Antivirus meets the conditions of a potentially unwanted program. Read on to find out why.
According to its developers, it should check the compuer for viruses. Moreover, they state that the software boosts its efficiency and optimizes it.
But the reports of its scanning might indicate that the problems it identifies are not real ones. This is based on the fact that it marks important Google Update registry entries as dangerous.
In fact, it is difficult for users to verify if solving the issues would bring any benefit to the system.
Microsoft itself warns about using such utilities. According to the company, they can cause 'serious problems'. In fact, such apps often open the "security door" for viruses or spyware. Then, these can steal data, such as credentials, or even encrypt your files, for ransom.
How to remove this PUA?
First of all, to avoid these issues, our advice is to read the license agreements. Yes, those that many users ignore and just accept. Still, in bundled, the details about it might not be available.
As such threats may lead to even more serious security issues, you should download and always use a anti-malware solution.
We know it is difficult to choose, so here is a list of the best for this year, which TechRadar put together.