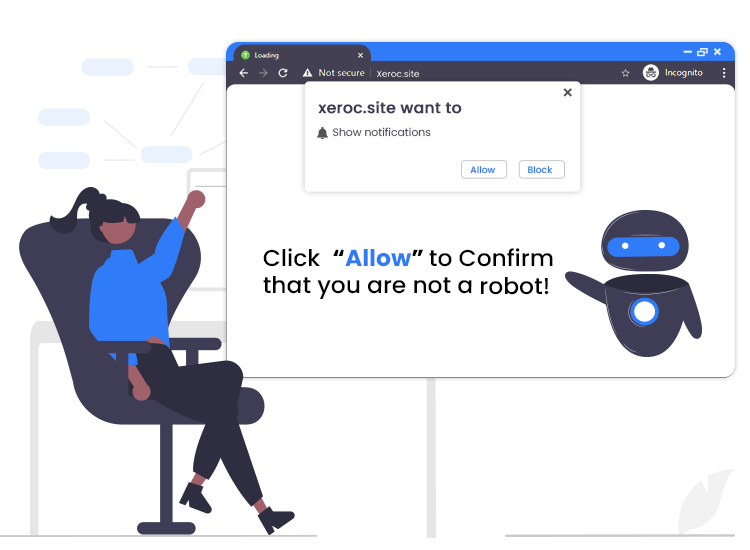 Xeroc.site pop-up ads come from an adware program that sends annoying and repetitive notifications on your screen while you are working on your browser. If your browser is attacked by this malicious site, you face troubles while working on the browser. You will see different ads, mostly pornographic and otherwise, on different sections of your screen which are not so common. If you are also getting notifications from the same website, then keep on reading to know everything you need to remove this.
What is Xeroc.site?
First things first. Before moving onto the solution to remove the Xeroc.site, let's know more about it. Xeroc.site is malicious adware for Windows and other kinds of devices. The adware works by taking over the notification control of your browser and exploiting it as the adware wants. The tool will send you different notifications stating alluring one-liners, images, or more.
When you click on the ad or the pop-up notifications, the website will take you to third-party ad houses. These are generally the websites that paid the adware to generate views. Now you may be wondering how my PC got affected by the adware. The answer is very simple, negligence.
In the past, while using the browser to surf the internet you must have followed one or more of the below listed reasons:
Clicked the allow button to prove you are not a robot.
Type allows in the search bar of any website to prove you are a human
Clicked on allow to get uninterrupted access to the download file.
Click allow to visit a website or view a video.
Other similar reasons can also result to Xeroc.site. If you did one of the above-listed things, then the nightmare named Xeroc.site will attack your PC.
How to Remove Xeroc.site Pop-up Ads from PC?
If you wish to remove the annoying adware from your PC, then follow the below steps precisely for ease. (Be advised that although these steps are executed on Google Chrome, these work fine for other browsers as well)
Launch your browser and open its settings.
Navigate to the following Privacy and Security/Site Settings/Permissions/Notifications
Find the Xeroc.site website and click on Options across the name.
Now Disable, Block, Delete or Remove` the adware.
To protect yourself from such major inconveniences in the future, use anti-malware software from some renowned brand and be secure.