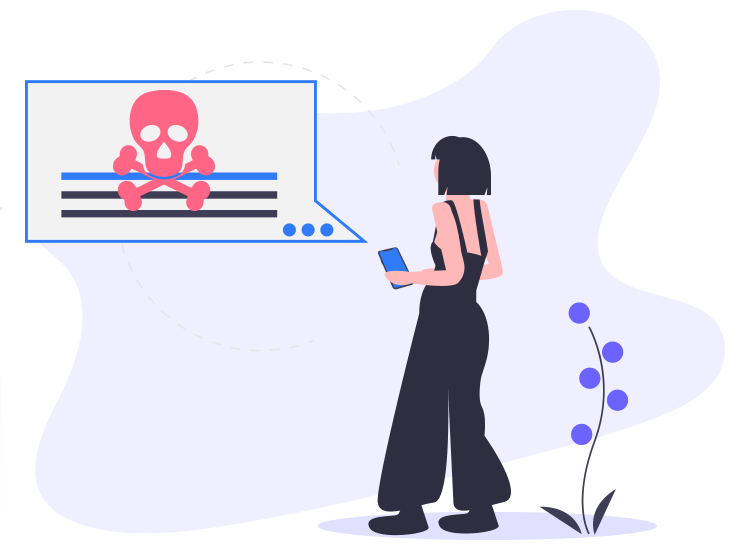 What is SMS Scams | SMishing?
SMS or popularity known as short message service is the new avenue of cybercriminals. Facts and figures show that any message received is usually opened within 15-20 mins of receipt which provides an easy playground to digital criminals. 
Looks like Phishing scams have got a sister named SMishing. Cybercriminals are using text messages to grab the attention of innocent people to commit fraud, steal private and confidential information, and steal money.
It is used by hackers to send fake text messages, claiming to be discount coupons, lottery tickets, links to free products, and much more. The messages are designed in a way to develop a sense of urgency and lure users into providing their bank and credit card details. 
Usually, the messages used in SMS Scams masquerade themselves as legitimate messages coming from popular institutions, government organizations, or financial institutions. An infected URL link is embedded in its body asking for the debit card number, credit card, or bank detail, including other usernames and passwords that criminals can use for illegal activities. 
Learn How To Recognize Smishing Messages
Generic Greetings: It is usually seen that scam messages use a general tone of greeting like "Dear customer", However on the other hand legitimate messages coming from official sources are more specific in pattern.
Fake Links: The messages used in SMS scams are embedded with fake and infected links. Ensure that you check the link before deciding to click on it.
Incorrect Account Information: These messages are also designed to provide incorrect information about your account balance, credit card bills, special offers, and much more to develop a sense of urgency in users.
Some Examples of SMishing Messages
Here are a few common examples of the types of messages used for SMS scams.
You've won a discount coupon.
Your Bank Account is Freezed.
Your bank has noticed suspicious activity in your account.
You have one free trip to London.
Simples Rules To Avoid Being A Victim Of SMS Scams
Don't be a victim, follow simple preventive measures. 
Never click on any suspicious link or attachment.
Don't rush into or fall for discounts and lucrative offers that you receive. They are just designed to create a false sense of urgency and excitement.
Banks, government agencies, financial institutions never ask for your PINs, account details, or password through messages.
Be completely sure before you decide to reply to any suspicious message.
Beware of messages sent with unusual text along with the ones sent during late hours.
Do not reply to messages that you think are suspicious as this might alert the criminals that the number is active.
If you think you are being tricked, report it to FTC.