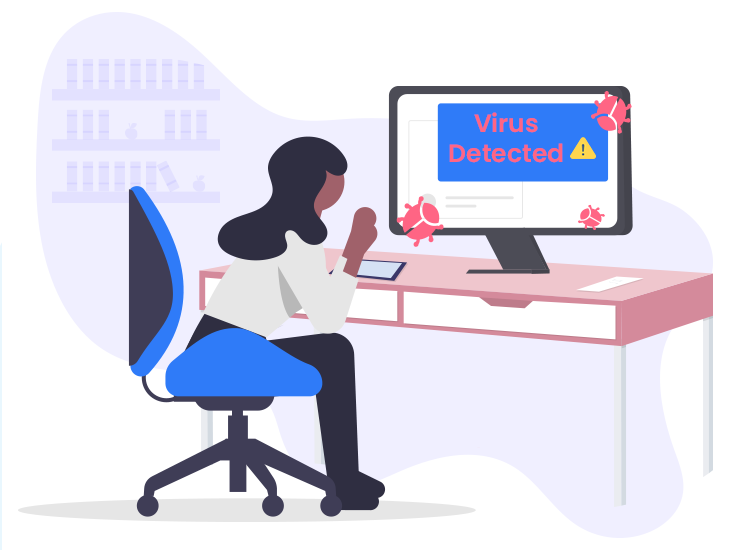 You can notice if your computer has a virus, although not all computer users are safety experts. Still, some signs should alert you. As soon as you notice them, you have to take the right steps, to stay safe, both online and offline.
Signs to look for if your computer has a virus
One of the signs of a virus might be that your computer suddenly slows down. But this is only one. For the others, read on and learn how to identify the issue, but also how to solve it.
Slowing down processes is visible if the time to start becomes longer than usual. Also, your machine might open any programs slower.
Moreover, pay attention if the system unexpectedly shuts down or restarts repeatedly. If so, you have to think about the possibility to have unexpected guests on it.
Of course, these may only be the tip of the threat iceberg. But when you cannot find your files anymore, or pop-up windows start showing up, it is clear that there is something odd happening to the system.
Sometimes, you could see new applications that you can not remember downloading. The most frequent ones are the browser toolbars. Whenever you see them, think about cyberattacks.
One physical sign is when your computer's fan starts working pretty much all the time, although you only use the system for simple tasks.
But the signs might also be more obvious, like automatically sent emails from your account, lagging web browsers or permanent redirects.
Although you may consider that the antivirus and firewall solutions protect you, you could also see them malfunctioning.
Any of the above could make your computer slower. But they can also steal your private data (bank account credentials, credit card and PINs, passwords etc). So, we let you know how to prevent, identify, and effectively fight against them.
Keep viruses away!
To stay away from danger, you should be aware of how this occurs. So, keep in mind that hackers infect computers when you download and install different files.
You might think it is a bargain to download a pirated version of some software. But this is not free, for sure! When you click the download button, viruses or malware come in the same package. So, it is even more expensive than buying it directly from the producer or the vendors. When you buy these from trusted sources, the risk of getting viruses is zero.
But downloading is not the only source of dangerous programs. You might visit some obscure websites and get the viruses. Or you may be unaware that transferring files from an external source is also a risk.
Anyway, act fast if you suspect any infection. This means to:
Always use and keep up to date with a trusted anti-virus solution.
Run a full system scan using it. Also, set it to do this automatically, on a regular basis. Follow the prompts the anti-virus guides you through.
Not being able to delete a virus or infected files does not mean you are at risk. Just restore your system to a previous backup, before any of the harmful programs creates issues. Then, scan your computer again, to check if this solved the problem.
Get rid of the temporary files. Always delete them, as it is an easy task.
Boot it on Safe Mode, if you are unable to delete files from your computer. This will prevent bad programs to react, while you solve the issues.
Consider reinstalling the operating system. This should be the ultimate solution if you could not get rid of viruses. But keep in mind that you might lose some data. So, for this, it is better to ask a specialist to do it.
But, to avoid this headache, always:
Use trusted antivirus software, from trusted sources. Scan your system regularly using it.
Use only complex and unique passwords (at least 12 characters long).
Remember to turn on multi-factor authentication, whenever this option is available.
Automatically update your drivers and software.
Never trust public Wi-Fi. If you still need to use it for banking, sending emails etc., use a Virtual Private Network (VPN) from a trusted source.
Following these rules will keep your computer(s) and your data safe. Enjoy your online life responsibly!