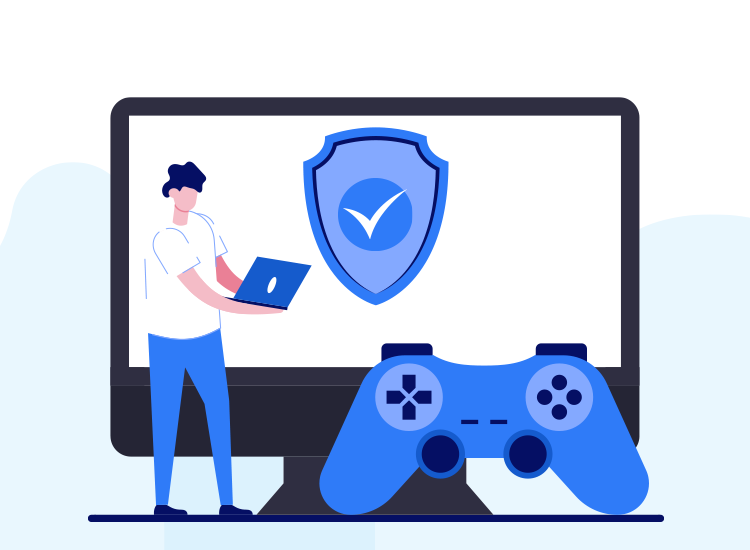 Gaming safety should be important for any gamer, no matter the excitement. Remember that you are online, in the real world, although you might feel already absorbed in the virtual one! No matter if you are an eSports pro, or just passionate about online gaming, we prepared a checklist for you to stay safe. Thus, you can enjoy what you like, while keeping your information secured.
The dangers of online games
According to security specialists, online gaming comes with the same threats as other online activities. So, malware and viruses are here even when it comes to gamers.
Downloading games for free or at cheaper rates might come with malware. And one more thing: cheat codes and items available through third-party websites include this risk, too.
But even when you download games from trusted sources, security breaches may be there. Thus, when malware reaches your computer, villains can steal personal information.
Chats in the games are a way for hackers to steal your identity. They try to get your name, phone number, or physical address. So, never share this kind of information while gaming.
For the most passionate of you, an account takeover might seem the end of the world. Well, this might happen if you use the same credentials on all the gaming platforms. One breach on any of them gives cyber criminals access to all your accounts.
There might be also less usual, but not impossible, attacks. Doxing is one of them, and it means they try to intimidate, punish, or humiliate you, by publishing the data, online. But this can only happen if they get your address and phone number.
Sometimes, attackers go even further and report fake emergencies. Then, you will be surprised to see authorities descending in force into your house.
Spyware is also there, as villains try to record gamers' activities and sell them to third parties. But data breaches in the games are also possible. They expose your usernames, passwords and email addresses.
Other threats might be cross-site scripting, DDoS attacks, and phishing emails.
Gaming safety tips
As mentioned earlier, the rules you should follow while gaming online do not differ too much from the general ones. But there are still specific ones. Here is how to stay safe by:
Setting strong and complex and different passwords for each of your accounts. Make it at least 12 characters long and include letters, numbers and symbols, without any possibility to recognize it as a word or phrase
Before downloading any game, read the reviews and search for them using a trusted search engine.
Use multi-factor authentication, whenever available.
Set the automatic updates both for your computer and software.
Never take clickbait.
If you decide to pay for your account, use a credit card. It offers more levels o protection. Moreover, you have the chance to get your money back, if any kind of fraud occurs.
Always provide only the strictly necessary data on your gaming account profiles.
Never use your real name in the games. Choose a game name and an avatar instead of your photo.
Whenever you feel bullied by another player, block them, so that you protect your mental health.
Before using a gaming device, adjust the settings, to prevent them from sharing any sensitive information.
Now, that you know the most important gaming safety tips, you can just enjoy your favourite games.