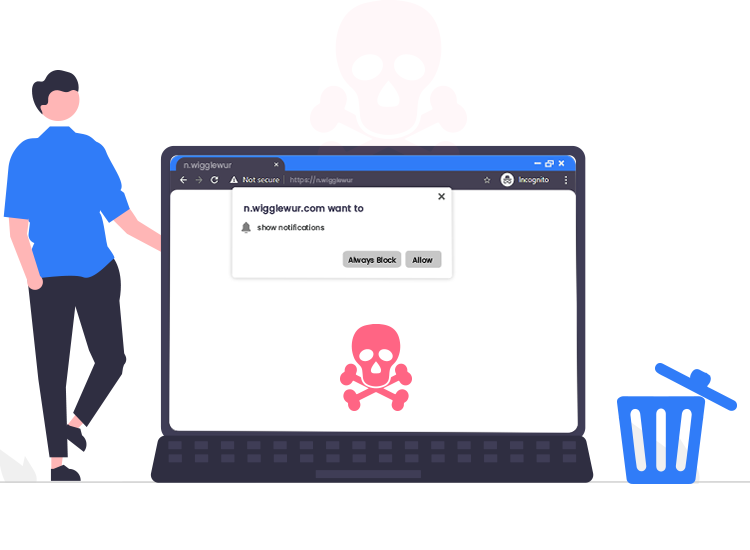 If you need to get rid of the N.wigglewur virus, then this one is for you. Once the virus attacks your system, it makes pop-up advertisements from third-party websites occur all the time on your screen. To succeed this the virus takes over your browser's notifications. But aside from being annoying, these ads are also dangerous.
Of course, scammers created this virus to raise revenue. Whenever you might click an ad, there is a high chance that malware starts downloading on your computer. And this is not the worst, yet. But do not worry, as we will show you how to get rid of this annoying virus.
What is the N.wigglewur virus?
Although once installed on your computer the virus seems to be just annoying, it actually hides much greater dangers. It has the capacity to install other malicious programs on your PC.
So, any interaction with these ads could bring malware to your computer, or lead you to fake shopping websites. This might result in bank identity theft, so you might lose both your money and access to your bank account.
N.wigglewur uses redirects in order to hide its real purpose. Although legitimate websites also use redirects, the virus throws users to dangerous web pages.
To make users trust it, the pop-ups might pretend to lead you to an anti-bot check tool. They could also force users into enabling push notifications, in order to access the content of the web pages. Avoid doing this!
If you enable push notifications, the virus will show you ads that lead to malicious websites.
So, these pop-ups are really dangerous. They can make your system collapse, as they use lots of resources, and you should disable them as soon as possible. Read on to learn how to do this.
Remove these dangerous pop-ups
Despite the fact these ads are both annoying and dangerous, removing the virus that brings them to your computer is pretty easy.
Of course, you need to disable the notifications in your browser, but you might also need anti-malware software to safely remove the browser completely. We present the way it works on Google Chrome, but the process is quite similar for the other browsers.
Reset your browser settings:
Open Settings,by clicking on the three dots menu in your browser.
Choose the Reset settings in the left menu
Click on the option
Press the Reset settings button
Use anti-malware software to find and remove any piece of malware. You can find here a list of the best options.
Thus, you will be able to remove the malware. Still, this should be a good lesson to remember.