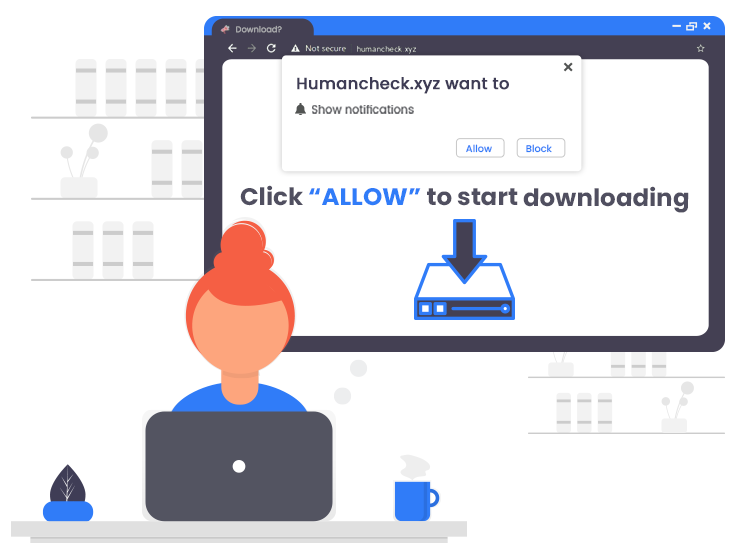 Humancheck.xyz pop-up ads are quite similar to Myknowing.biz, Dpassionto.biz, Mo22.biz and countless other rogue web pages that show shady advertisements or open a couple of untrustworthy/malicious sites. Sites of these types operate by luring unsuspecting visitors into registering for its push notifications via the web browser.
Although push notifications cannot cause any potential harm to your operating system or files directly, scammers use them to bypass the protection against pop-ups in the internet browser (e.g., Chrome, Firefox, Edge, etc.) and therefore display lots of annoying pop-ups or ads.
These Humancheck.xyz pop-up advertisements are used to promote PUAs (potentially unwanted applications), dubious browser add-ons or extensions, fake software updaters, giveaway scams, and questionable web pages.
Keep on reading to learn how to remove these pop-up ads from your computer.
What are Humancheck.xyz pop-up ads?
Humancheck.xyz is a rogue website that uses social engineering tactics (e.g., clickbait, fake CAPTCHA verification, etc.) to fool users into subscribing to its browser notifications.
The important thing to note here is that users do not visit sites such as this one willingly. Usually, they get opened when a deceptive advertisement is clicked or another malicious site is visited.
In most cases, rogue pages like Humancheck.xyz displays a 'Show notifications' prompt which urges users to click on the 'Allow' button if they want to access the content of the site, connect to the Internet, watch online video, and so on.
It is important to emphasize that rogue websites of this kind should never be allowed to show notifications.
How to Remove Humancheck.xyz Pop-up Ads from PC
Here are the simple steps that you need to follow to remove Humancheck.xyz push notifications from your Google Chrome browser.
Select the Chrome menu (three vertical dots) from the upper-right corner, and then click on the Settings option.
Then, select the Site settings > Notifications option.
Click on the three vertical dots button placed alongside Humancheck.xyz and other dubious URLs, then click on the Remove or Block button.
Things to Keep in Mind While Browsing the Web
Keep the following basic internet safety rules in mind to protect yourself, your network, and your computer from the range of cybercrimes out there.
Install a powerful antivirus or anti-malware software on your PC or laptop.
Always keep your operating system and software programs up-to-date.
Avoid opening or downloading suspicious email attachments.
Only download files from trusted sources.
Create strong and unique passwords.