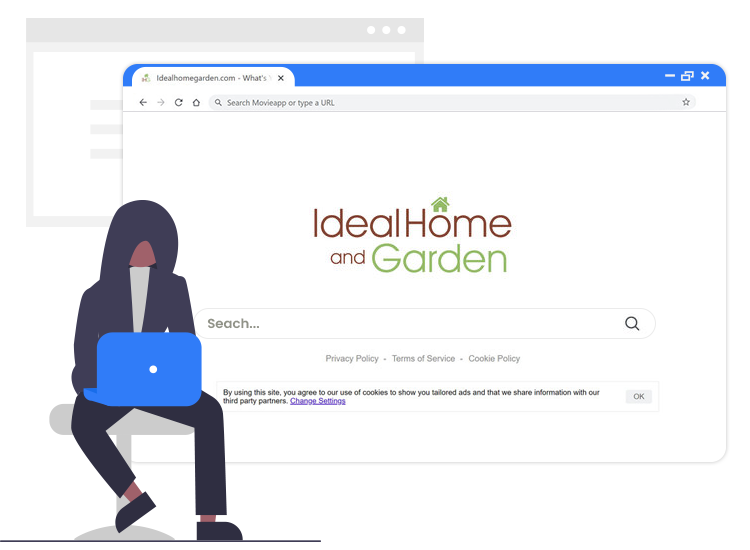 If your Internet browser is often redirecting you to nasty or shady online sources, you need to remove IdealHomeGarden browser hijacker right away. You may follow this guide to completely remove this browser hijacking application from your system and reset your Internet browser settings to default.
IdealHomeGarden browser hijacker is a notorious threat that can constantly redirect users' web search queries to suspicious websites in order to show malicious advertisements and various other commercials. These types of undesired browser redirects are done to promote various shady or phishing web resources and software bundles to make online advertising revenue.
Because of questionable methods used for the distribution, this virus is also categorized as a potentially unwanted program (PUP).
IdealHomeGarden Browser Hijacker: Everything You Need to Know
This is a deceptive application considered a browser hijacker. This browser hijacking application is capable of modifying the default settings of your main browser including Google Chrome, Mozilla Firefox, Microsoft Edge, Safari, Opera, and other browsers.
Once this notorious threat successfully invades the targeted system, it starts making several modifications to the default browser settings in order to promote the idealhomegarden.com fake search engine. The main motive of this bogus search engine is to fill the targeted browser with commercial content in form of pop-ups, survey links, banners, audio/video ads, etc.
Clicking on such suspicious links or ads allows the developers of IdealHomeGarden hijacker to boost affiliate websites' traffic and make illegal profit. Additionally, this browser redirect virus can also help malicious actors track users' browsing-related data (such as search queries, viewed pages, IP address, geolocation, etc.) and collect personal information installed on browsers (such as login ID, passwords, credit card details, etc.).
Common Symptoms of IdealHomeGarden Browser Hijacker
Check out our below list of symptoms to confirm whether your browser is hijacked by IdealHomeGarden or not.
The homepage, new tab bar, and search engine of your main browser are set to fake search engine address (idealhomegarden.com).
Your browser is causing frequent redirections to various shady/scam websites.
Unwanted programs or browser extensions are automatically getting installed.
Websites are taking a long time to load up.
How to Remove IdealHomeGarden Browser Hijacker from PC?
If you wish to completely delete IdealHomeGarden browser hijacker and all other hidden threats (ransomware, worms, spyware, etc.) from your system, you can run a full PC scan using a powerful automatic malware removal (anti-malware) tool.