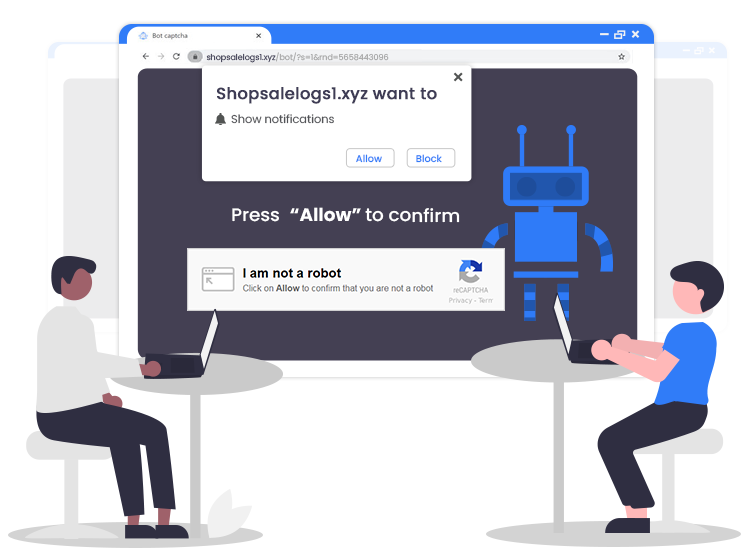 These Shopsalelogs1.xyz pop-up ads usually promote adult sites, fake software updaters, prize & lottery scams, suspicious browser add-ons, etc.
Shopsalelogs1.xyz is a misleading web domain considered as adware. This site uses various deceptive techniques to trick visitors into registering for its push notifications service. A push notification is a kind of clickable pop-up message that is used by many companies and website developers to convey messages, offers, or other valuable information to their customers.
However, cybersecurity researchers have determined that people with malicious intentions are misusing this legit push notifications feature to bypass pop-up blocker programs installed on computers.
Shopsalelogs1.xyz is one of the many scam websites on the internet that employs push notifications to send an excessive amount of pop-up advertisements directly to the victim's desktop screen.
If you're also getting undesired pop-ups and notifications from the Shopsalelogs1.xyz site, read this guide to the end to learn how to block them and get rid of the adware infection.
What is Shopsalelogs1.xyz?
Shopsalelogs1.xyz is a malvertising (malicious advertising) domain that is aimed to trick you into subscribing to its push notifications service and fill your browser or desktop screen with commercial and harmful content.
As soon as the user lands on the Shopsalelogs1.xyz page, the site displays a 'Show notifications' pop-up box with two options: "Allow" or "Block".
When the user agrees with Shopsalelogs1.xyz notifications to be displayed, the website starts delivering a ton of unwanted pop-ups, banners, deals, scam offers, and other commercial content in the lower right corner of the computer screen.
The singular motive of internet scammers behind treacherous websites like Shopsalelogs1.xyz is to make an illegal profit online by forwarding traffic to sponsored pages.
How to Remove Shopsalelogs1.xyz Pop-up Ads from PC?
Carefully follow the instructions provided below to remove Shopsalelogs1.xyz pop-ups and notifications from your Google Chrome browser.
First, you need to start the Google Chrome browser. Once done, go to the right upper corner of the browser window and open the main Chrome menu (three vertical dots icon).
Next, head to the Settings > Site settings > Notification.
Now, click the three vertical dots button present next to the Shopsalelogs1.xyz site and tap on the Remove or Block option.
After successfully adding the Shopsalelogs1.xyz website to the Block list, run a thorough PC scan with a reliable and powerful antivirus or anti-malware software to delete the remaining adware-type infections.