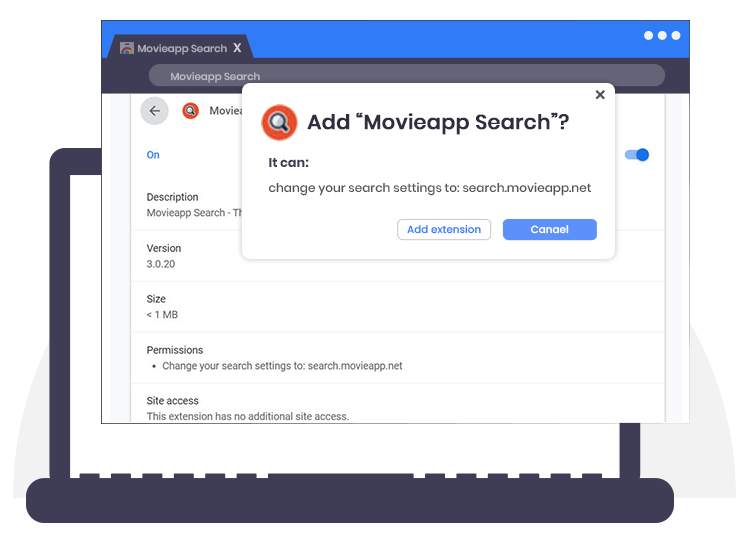 Movieapp Search browser hijacker is promoted as a useful application or extension that helps users perform movies related searches. However, in reality, it is a kind of notorious PC threat, which belongs to the family of browser hijackers. 
Soon after infiltrating the targeted systems, Movieapp Search browser hijacker alters the web browser (e.g., Chrome, Firefox, and Edge) settings without the user's knowledge in order to promote search.movieapp.net illegitimate search engine.
The main purpose of this app is to inject unwanted advertising into the user's browser and generate pay-per-click revenue. 
Like many unlucky users, if your browser search queries are also getting redirected through search.movieapp.net address without your consent, then read this post right to the end to learn how to remove this browser hijacker from your computer. 
What is Movieapp Search?
This is a piece of rogue application categorized as a browser hijacker. It operates by making modifications to the default internet browser's settings to redirect all searches through search.movieapp.net address (fake search engine). Apart from causing redirections and generating misleading results filled with sponsored ads, this app is capable of collecting user's browsing-related information. 
Since Movieapp Search browser hijacker and other software within this category make their way into computers stealthily through freeware, shareware, and advertising-supported software, they are also known as potentially unwanted applications (PUAs).
Common Symptoms
If you have this browser hijacking application installed on your computer, then you may notice one or several of the following symptoms or behaviors.
Your default search engine and homepage of your web browsers are changed to search.movieapp.net.
Browser is displaying ads in search results.
Frequent redirects to dubious or notorious web domains.
Sluggish browser performance.
A barrage of ads in the form of banners, discounts, etc.
How to Remove Movieapp Search Browser Hijacker?
To accomplish a hassle-free removal of this pesky browser hijacker, we suggest you perform an automatic on the affected system using a trustworthy antivirus/ anti-malware solution.
Besides, we advise you to follow the below-mentioned cybersecurity tips to secure your computer and personal data from malicious actors.
Before installing any software, read the Privacy Policy and Terms of Use carefully.
Be careful when opening email attachments from unknown or unverified sources.
Keep your operating system and apps current and properly patched.
Make your passwords as strong as possible.
Stay safe by using a secure web browsing Chrome extension.