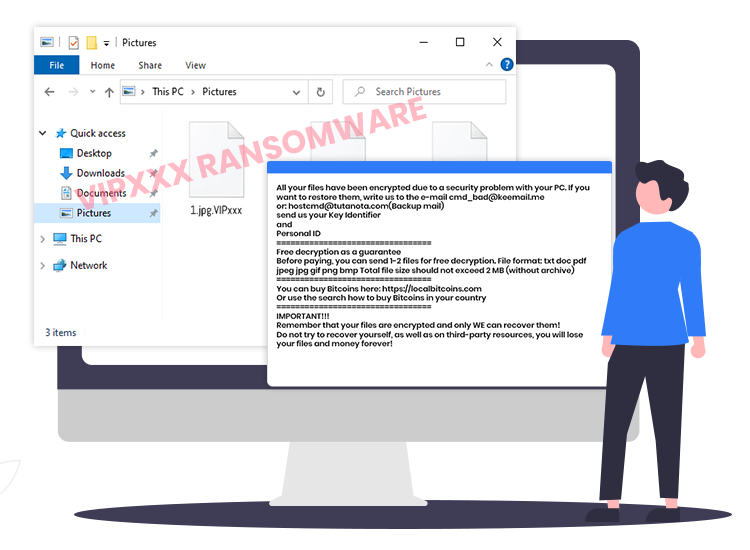 VIPxxx is the name of a widespread type of ransomware infection created by scammers to extort a huge sum of money by holding victim's files hostage. Like its counterparts, VIPxxx ransomware encrypts all types of files (for example, pictures, audios, videos, word docs, etc.) stored on a targeted computer and demands a ransom in the form of Bitcoin cryptocurrency for the decryption. 
If you're already infected by this nasty ransomware-type infection, then this guide can help you to get rid of it. In this article, you will find all the information you need to know about the VIPxxx ransomware virus, how it gets on your PC, removal instruction, and tips to prevent it in the future.
What is VIPxxx Ransomware?
This ransomware is a deadly computer infection designed by cybercriminals to prevent users from accessing their personal files or entire system until a ransom amount is paid.
After invading the security vulnerable system,VIPxxx ransomware encrypts (locks) files and renames them by appending ".[cmd_bad@keemail.me].VIPxxx" extension to their filenames. For example, it renames a file titled "1.mp3" to "1.mp3.[cmd_bad@keemail.me].VIPxxx", "2.mp3" to "2.mp3.[cmd_bad@keemail.me].VIPxxx", and so on.
Whenever a victim tries to open a compromised file, VIPxxx displays a special text file named RESTORE_FILES_INFO.txt (ransom note). Usually, this text file informs victims that their files have been encrypted and provides alleged instructions on how to recover them.
VIPxxx Ransomware: Distribution Techniques
There are several different attack vectors ransomware can exploit to infect computer systems/ networks. Below we have enlisted a few of the most common methods.
Malicious email attachments
Drive-by download
Illegal software cracking tools
Pornographic websites
P2P file-hosting and sharing networks
Malicious advertising
Bugs and flaws of unpatched programs
How to Remove VIPxxx Ransomware from PC?
The easiest yet most effective way to delete this ransomware and all the related malware infections is to perform an automatic scan with a reliable and powerful anti-malware software on the infected host computer.
Tips to Prevent Ransomware from Infecting Your System
To protect your computer from devastating ransomware and different types of malware threats, we urge you to follow the below-mentioned cybersecurity tips.
Keep your Windows PC and software applications up-to-date, always.
Do not open unsolicited or dubious email attachments.
Take regular backup of your important files to external storage devices.
Do not download files from untrustworthy download channels.