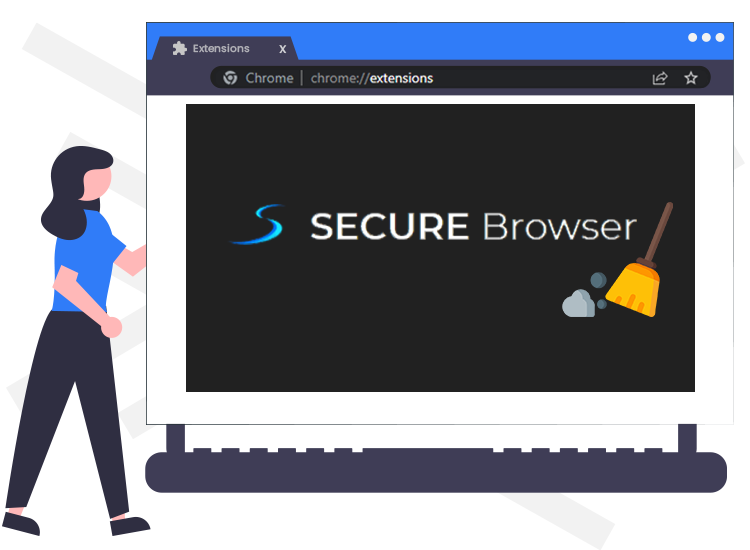 Secure Browser is a rogue browser that some users download, as trusted browsers sometimes disappoint them. But it is a dangerous browser to use.
If your browser starts to show you loads of ads all of a sudden, your computere might be at risk. This kind of browsers belong to the potentially unwanted applications category.
Read on to learn how to get rid of it and its related extensions.
What is this rogue browser?
This is a Chromium-based browser. As it is built on a well-known structure, its developers promote it as having a special panel for privacy and safety.
Still, it is dangerous to really test if this is true. Because the browser is adware.
This tries to fool users who download it accidentally, then sends thousands of intrusive ads. This help the browser's developers earn money, as they sell online ad space.
Pop-ups and flickering banners show in the browser and slow down your computer. Any click on these would lead users on dangerous website. Thes can automatically download malware. Also, they could collect personal information about the users, such as creedntials. Then they can sell them to third-parties,
As a result of having this on your computer, its performance will be dramatically affected.
In order to trick users download it, hackers use link redirections, while downloading other free solutions.
How to remove the Secure Browser from your computer?
If you discover the symptoms described earlier on your computer, it might be infected. But there is an easy way to get rid of this issue, and we will show it to you.
The first thing is to uninstall the rogue program from your computer.
1. Search for Programs and Features/Apps and Features from the search bar in the Start Menu.
2. Scroll down to the program you want to uninstall
3. Click on it.
4. Select Uninstall.
Now, that you removed it from your computer, you should also clean your legitimate browsers. This is because you might have some adware extensions in these. They will invade your browser. So, you should remove these extensions.
The guide below is for Google Chrome. Still, it will work quite similarly in all the browsers.
1. Open the browser's menu by clicking the three dots.
2. Choose More tools.
3. In the next menu select Extensions.
4. Find the one linked to the this rogue browser and click Remove.
Now, both your computer and your browser should be clean. Anyway, for your safety, never click on strange ads or links. Also, always use an up to date security software, from a trusted source.