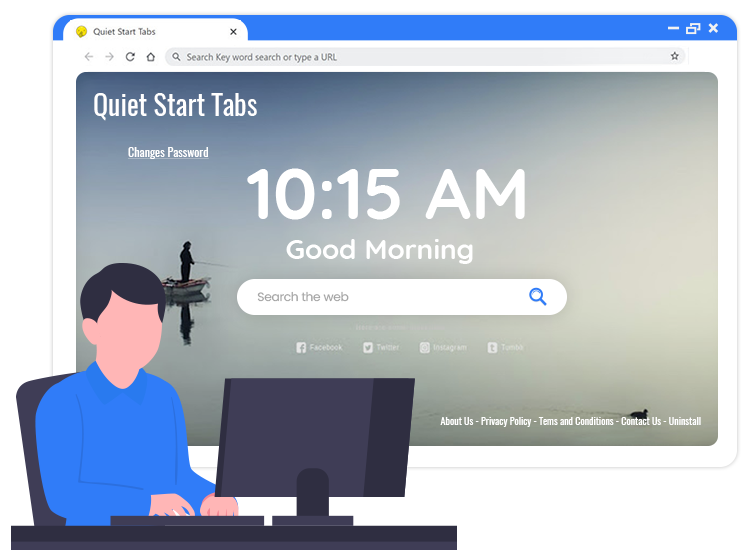 If your PC is infected by Quiet Start Tabs browser hijacker then you need to remove it as soon as possible. Otherwise, you might find yourself landing on perilous web domains seeking to infect your device with more notorious malware.
Quiet Start Tabs is promoted as a genuine extension that changes the homepage of your internet browser and shows you the current local time with a warm message. Moreover, it changes the background of the browser's homepage every single day and contains links to popular sites (e.g., Facebook, Twitter, Instagram, etc.).
According to IT security specialists, it is nothing more than a potentially unwanted application (PUA) belonging to the browser hijackers' family. A browser hijacker is a kind of unwanted extension or application that is designed to change the settings of the default web browser (Google Chrome, Mozilla Firefox, Safari, Edge, or other browsers) without the knowledge or approval of the computer user, and it usually redirects the affected system's web searches to some sponsored or advertisement-related pages.
Quiet Start Tabs Browser Hijacker: Everything You Need to Know
Quiet Start Tabs is a browser hijacking application that is designed to redirect user search queries through the address of a fake search engine (nature-tab.com). The important thing to note here is that people do not usually install apps/extensions of this kind intentionally. Various questionable distribution practices (e.g., software bundling) lead to its stealthy download/ installation.
As soon as it enters the user's system, the hijacker makes several unwanted modifications to the browsers' settings such as homepage, new tab URL, and default search engine options.
Common Symptoms of Quiet Start Tabs Browser Hijacker
You may notice various signs or symptoms if you have the Quiet Start Tabs extension installed on your machine. Some of the most common ones include:
Your default internet browser's settings are altered without your knowledge or consent.
Your web searches are constantly getting redirected to various unknown sites.
Your screen is flooded with multiple pop-up advertisements, sponsored links, and blinking banners.
How to Remove Quiet Start Tabs Browser Hijacker from PC?
PUAs and browser hijackers can be removed manually, although this approach takes a great deal of time and technical prowess. If you don't have time or skills, you can use a powerful anti-malware tool to remove Quiet Start Tabs hijacker and all the other dangerous malware infections automatically in one go.