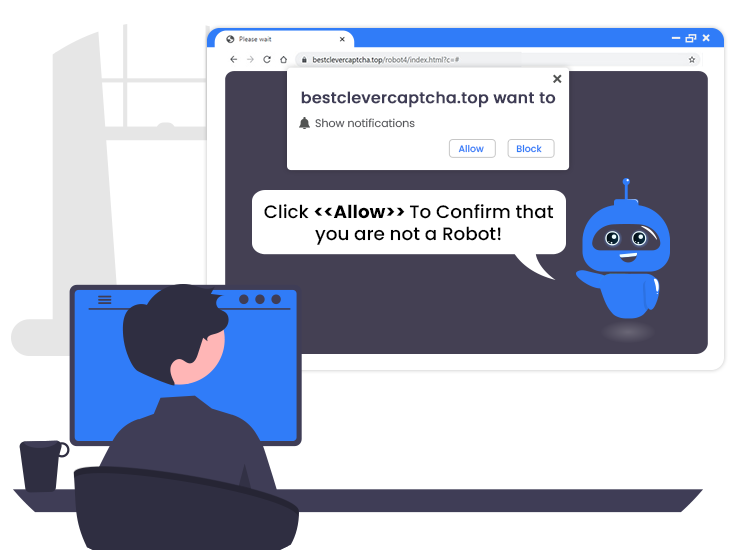 If Bestclevercaptcha.top pop-up ads have started appearing in your browser, then follow this guide to the end to learn how to block or remove them.
Bestclevercaptcha.top is a perilous web domain that uses popular social engineering tactics to trick less experienced computer users into subscribing to 'Push Notifications' or 'Browser Notifications'.
Typically, the Push Notifications feature is created and utilized by developers to alert users about recent updates and blog posts from the site. However, cybercrime masterminds behind this shady website abuse the Push Notifications feature to avoid antivirus/ad blocker software installed in the user's computer system by running intrusive adverts.
Most of the time, the advertisements displayed by Bestclevercaptcha.top promote giveaway scams, suspicious browser extensions, free online games, and encourage users to visit adult dating or gambling web pages.
What is Bestclevercaptcha.top?
Bestclevercaptcha.top is a rogue website designed to use deceptive techniques like clickbait to get permission from visitors to deliver notifications. It is pretty similar to Dating-meet.top, Gettingyourcontent.com, Truthwassadl.xyz, and many other sites.
The Bestclevercaptcha.top site, when visited, shows a fake CAPTCHA text that encourages its visitors to click the "Allow" button to prove that they are not robots. When clicked, the site starts displaying annoying ads in the lower right corner of the desktop, even when users are not using the internet browser.
The purpose of this rough site is to earn illegal money (via a pay-per-click scheme) by displaying third-party ads and redirecting the web traffic on its partner site.
How to Remove Bestclevercaptcha.top Pop-up Ads from PC?
Follow the instructions provided below to block or remove Bestclevercaptcha.top notifications and pop-up advertisements from your Google Chrome browser. If you're using a different internet browser, some steps may vary.
Open Google Chrome browser, click on customize & control icon in the top right corner, then select the Settings option.
In the Settings window, click on the "Site Settings" option.
Then, look for the "Notifications" option in the Permissions section and click on it.
In the last step, you need to click on the three dots icon next to the Bestclevercaptcha.top URL in the Allow list, and select the Block or Remove option.
After you've completed the above steps, run a full system scan using a well-trusted and adept anti-malware program to get rid of the adware and other malware infections on your computer.