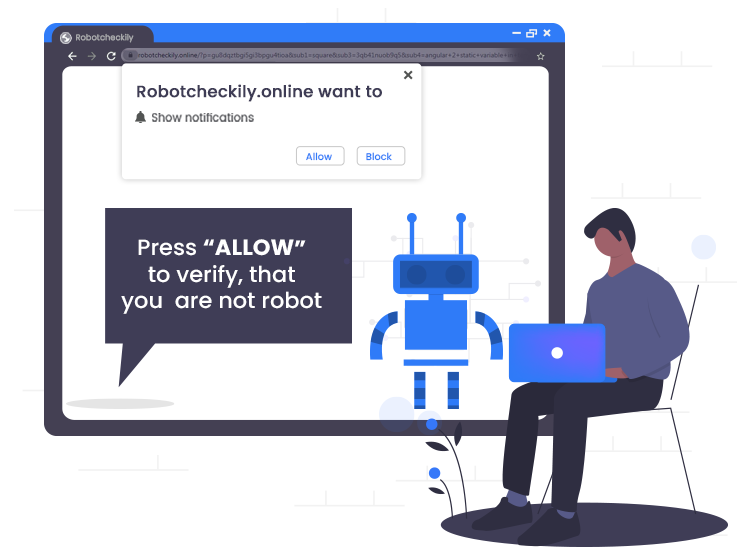 Robotcheckily.online is an untrustworthy website, which shares many similarities with Humancheck.xyz, Myknowing.biz, Dpassionto.biz, and thousands of others. The main purpose of sites like Robotcheckily.online is to fool you and other unsuspecting visitors into subscribing to its browser notifications so that they can deliver lots of intrusive pop-up advertisements directly to your desktop.
These pop-up advertisements are used to promote suspicious plug-ins and add-ons, fake prize scams, questionable web pages, and other potentially unwanted applications (PUAs).
If you already subscribed to Robotcheckily.online push notifications, then you're advised to cancel the subscription immediately. Continue reading this post to learn how to remove these pop-up ads from your computer.
What is Robotcheckily.online?
As said above, this is a misleading website that tries to deceive users into accepting push notifications via the web browser. The important point to note here is that most users rarely access websites of this kind willingly. They get redirected to such webpages by shady advertisements or installed adware programs.
Usually, most rogue websites use social engineering methods (for example, fake CAPTCHA verification, clickbait, etc.) to fool users into subscribing to their browser notifications. The Robotcheckily.online webpage is not an exception to this; it displays a 'Shows Notifications' pop-up with misleading text (e.g., Click the Allow button to verify you are not a robot) to gain users attention and make them press the Allow button.
How to Remove Robotcheckily.online Pop-up Ads
Follow the step-by-step instructions listed below to get rid of pop-up ads from your Google Chrome browser.
Select the Chrome menu (three vertical dots) at the top right corner of the window, and then choose Settings.
Then, navigate to the Site settings > Notifications.
Click on the three vertical dots button on the right-hand side of Robotcheckily.online and other rogue webpages, and then click the Remove or Block button.
Things to Keep in Mind While Browsing Internet
Keep the following cybersecurity tips in mind while browsing the internet to reduce your chances of falling victim to a scam and enjoy a secure web surfing experience.
Get a reputable and powerful anti-malware or antivirus software for your laptop or desktop PC. 
Install operating system, browser, and software updates as soon as they're released. 
Do not open or download email attachments that come from unknown or suspicious entities.  
Only download files from authentic or official partner websites.
Create strong and complex passwords.