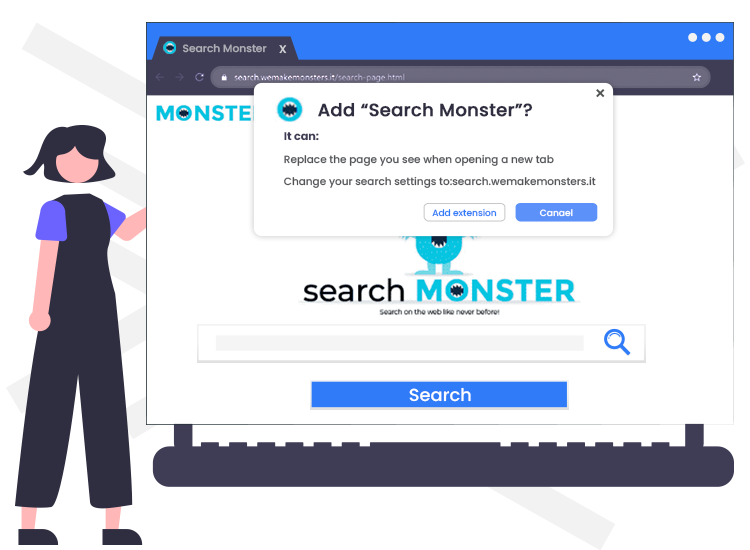 Search Monster browser hijacker is a piece of rogue software, endorsed as a useful tool for generating optimized search results. It is categorized as a browser hijacker or redirect virus due to the modifications it makes to the default browser settings in order to promote a fake search engine (search.wemakemonsters.it).
The end goal of fraudsters behindSearch Monster browser hijacker is to redirect user search queries to various affiliated or malicious web pages so that they can generate pay-per-click revenue.
Like many unfortunate users, if your browser search queries are also getting redirected through the notorious search.wemakemonsters.it web domain, then you need to get rid of the Search Monster browser hijacker forthwith.
Keep on reading to learn how to remove it undo the changes made to your browser settings.
What is Search Monster?
This is a rogue application, classified as a browser hijacker. Once installed, it makes various changes to the internet browser (e.g., Chrome, Firefox, and Edge) settings, replacing existing search engine, new tab, and homepage of your browser to search.wemakemonsters.it – illegitimate search engine.
Similar to VIPSearch Pro, Private Home, and other rogue applications, Search Monster is capable of gathering personal (e.g., usernames, passwords, credit card information, etc.) and browsing-related (e.g., entered search queries, IP address, geolocations, etc.)details.
Common Symptoms of Search Monster Browser Hijacker
Following are a few common symptoms that may give you an idea of whether you have this browser hijacker installed on your computer.
The home page, new URL tab, and default search engine are changed to search.wemakemonsters.it.
Search engine is showing inaccurate or misleading results.
Search queries keep getting redirected to untrustworthy or malicious web domains.
Web pages taking longer than usual to load.
Multiple pop-up advertisements or fake software update alerts.
How to Remove Search Monster Browser Hijacker?
The most flawless way to get rid of this browser hijacker and other rogue applications is to run an automatic scan with a powerful antivirus/ anti-malware software on the compromised system.
In addition, we recommend you apply the following cybersecurity tips to protect your computer against browser hijackers, viruses, and other forms of cybercrimes.
Always carefully read the 'Terms of Use' and 'EULA' agreement before installing software.
Avoid opening email attachments from unknown or untrustworthy entities.
Keep your apps, operating system, and browsers updated at all times.
Create strong, random, and impossible-to-guess passwords.