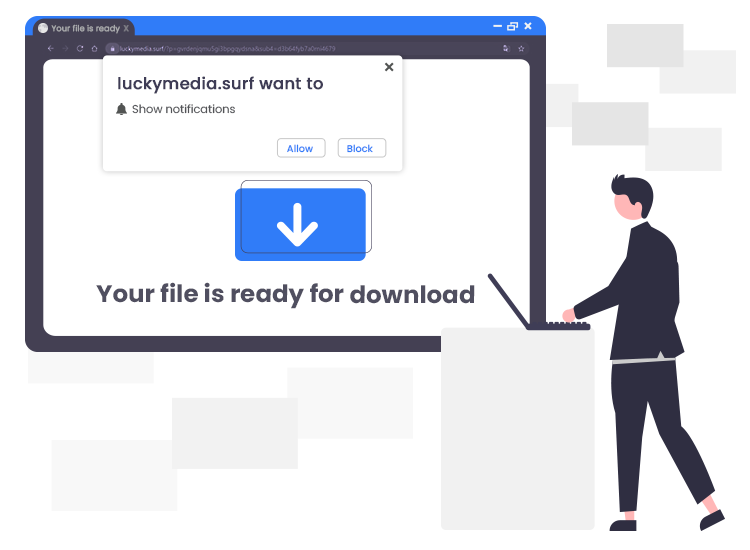 Luckymedia.surf pop-up ads come from a dubious website that tries to persuade users into subscribing for its browser notifications so that it can send out intrusive pop-up advertisements directly to the user's browser or desktop. These advertisements are used by scammers to promote adult sites, fake software updates, giveaway scams, suspicious browser add-ons, and potentially unwanted applications (PUAs).  
If you're seeing Luckymedia.surf pop-up advertisements in the lower-right corner of your desktop screen, then you need to cancel the notifications subscription as quickly as possible.
Keep reading this post right to the end to learn how to remove these pop-up ads from your computer.
What is Luckymedia.surf?
As said earlier, Luckymedia.surf is a notorious web page that uses some social engineering tactics (for example, fake CAPTCHA verification, clickbait, etc.) to mislead users to accept push notifications via the web browser.
There are thousands of rogue sites similar to Luckymedia.surf on the internet. Some examples are Robotcheckily.online, Humancheck.xyz, and Myknowing.biz.
An important thing to note here is that users rarely access these web pages intentionally. More often than not, they get redirected to them by other untrustworthy/malicious web pages, intrusive ad campaigns, or already installed potentially unwanted applications.
Usually, sites like Luckymedia.surf display a 'Confirm notifications' prompt to its visitors and urges them to click on the 'Allow' button to access the content of the web page, watch a video, enable flash player, etc.
Once a user clicks on the 'Allow' button, the Luckymedia.surf website starts sending notifications in the form of intrusive pop-up advertisements to the desktop.
How to Remove Luckymedia.surf Pop-up Ads
To get rid of Luckymedia.surf pop-up ads from your Chrome browser, follow the simple steps shared below.
Click on the three vertical dots (Chrome Menu) in the top right corner of the browser window, and select Settings.
Then, select Site settings > Notifications.
Click on three dots button located on the right-hand side of Luckymedia.surf, and select Remove or Block option.
Important Tips for Safe and Secure Web Browsing
Follow the below-mentioned cybersecurity tips to protect your computer from malicious threats and enjoy a secure web surfing experience.
Install and use a reliable antivirus or anti-malware software.
Keep your operating system, browser, and software applications always updated.
Don't open or download email attachments from unsolicited senders.
Only download files from trustable sources.
Create strong, complex, and hard-to-crack passwords for each of your accounts.