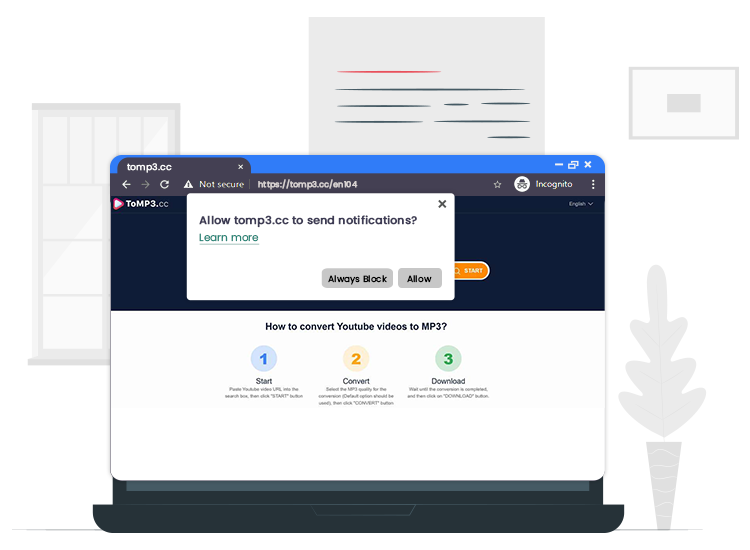 The Tomp3.cc website pretends to help users download YouTube videos. In fact, it tries to trick them into subscribing to push notifications. Then, it sends spam pop-up ads.
If your browser already shows you such ads, it is possible that the virus reached your computer. Read on to learn how to get rid of it.
What is Tomp3.cc?
As mentioned before, Tomp3.cc is advertised as a YouTube downloader. But instead of doing what it claims, is would show dangerous pop-up ads on the device. They usually promote adult websites, dangerous software, or unwanted programs. All of these represent a threat for your system.
So, if you see such ads, that also cover the content on other websites, your computer is infected with this adware. Such ads may also appear when your browser is closed.
Hackers use this method because such ads may also come from trustful sources. This is because they represent a good and cheap advertising solution for legitimate websites. So, it is pretty easy to trick users using them.
But, don't worry! There is a way to get rid of this dangerous adware.
How to remove the virus from your Windows system?
The first thing to do in order to remove this virus from your computer is to reset your browser. These steps are for the Chrome browser, but it is quite similar in all the browsers.
Click the three dots in the top right corner of your browser to open its Settings.
Click Reset settings, in the left sidebar.
Choose Restore settings to their original defaults.
Click Reset settings.
After following these steps, the rogue website should not be able to send notifications anymore. Now, it is time to remove it from your computer.
Open again the browser's Settings.
Navigate to Privacy and Security from the left sidebar.
Choose Site Settings.
Access Permissions > Notifications.
Look for Tomp3.cc and click Options.
Choose delete/remove/disable the adware notificantions.
Now, your computer should be free of this adware. To keep your system safe, we recommend that you download and run a powerful anti-virus or anti-malware tool. Here is a list of the best such tools.