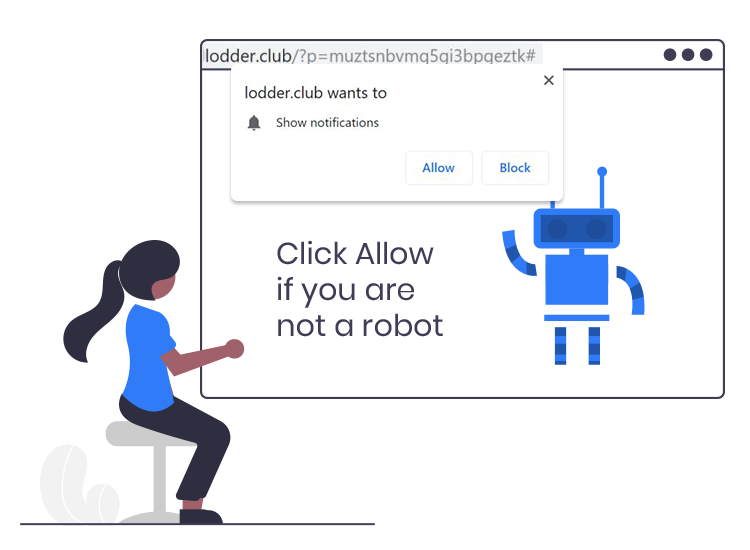 If your web browser or new URL tab is constantly being redirected to the Lodders.club pop-up ads, then it is possible that you have an advertising-supported software (commonly called, adware) installed on your computer system.
Do you want to know what Lodders.club is or how you can stop getting unwanted pop-up ads? If so, then read the following guide to get all the information on this matter.
What is Lodders.club?
Lodders.club is a rogue website designed to trick visitors into subscribing to its push notifications so that it can directly send intrusive pop-ups and unwanted advertisements to your mobile device or desktop computers.
Following is the message that you might see after being redirected to the Lodders.club site:
"Lodders.club wants to Show notifications
Click Allow to confirm that you are not a robot!"
Once a user is fooled into clicking on the "Allow" button, then it starts displaying several unwanted advertisements in the form of pop-ups or banners and compromises the user's privacy by gathering personal information like login credentials, passwords, browsing history, financial details, etc.
Additionally, advertisements of such type can be used to redirect to shady websites (e.g., adult content hosting sites) and execute scripts to further install malicious/unwanted applications (e.g. PUAs).
Creators of dubious websites like Lodders.club further relays the gathered information with third-party data firms, advertisers, or external users who misuse it to earn money via pay per click (PPC) mechanism or commit financial fraud.
Hence, it is advised to avoid clicking on the 'Allow' button because doing this could lead to various computer infections or even identity theft.  
How to remove Lodders.club pop-up ads from your PC
Below are the detailed instructions on how to prevent Lodders.club site from sending annoying pop-up notifications:
From the top right corner of your Google Chrome browser, click the three vertical dots icon, and then choose the 'Settings' option.
Under the 'Privacy and security' section, click on the 'Site Settings' option.
After that, select the 'Notifications' option available underneath the 'Permissions' section.
Now look for the Lodders.club website in the Allow section. 
Once found, select it and then click on the 'Remove' button.
After performing the above steps, if you're still being redirected to dubious or untrustworthy websites, we recommend running a complete system with a reputable antivirus or anti-malware software to automatically remove all malicious browser plug-ins, toolbars, and other suspicious applications.