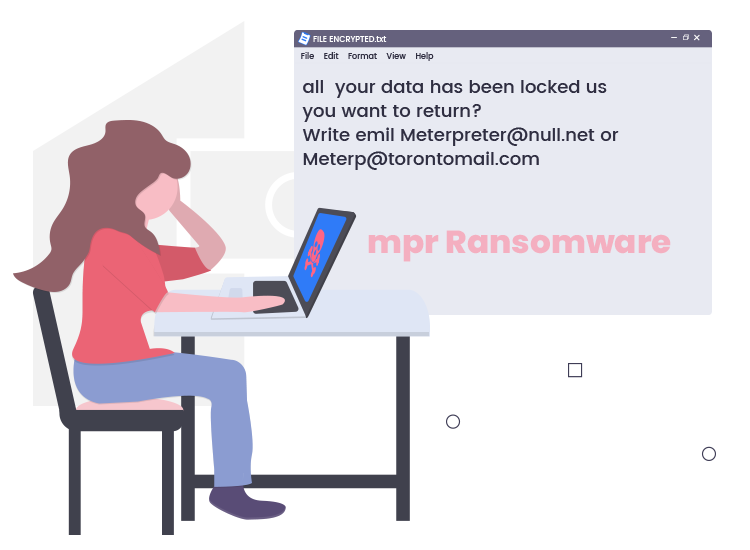 [Meterpreter@null.net].mpr is one of the members of the ransomware family that prevents users from accessing data such as images, videos, documents etc. with data encryption. This malicious component encrypts files that exist on a user's computer with the help of the [meterpreter@null.net].mpr extension. 
This extension then hits a user's screen with a message offering a chance for decrypting the data by making payment in Bitcoin. This infection shows up with a guide in the name of meterpreter@null.net on a pop-up window and it rests in a text file named as FILES ENCRYPTED.txt.
This malicious program is made up of the file-encrypting components that hijack the user's PC and take over the data by encrypting them. This type of malware is a method to trick users into paying a sum in the Bitcoin cryptocurrency offering users data decryption in return.
How Does the [Meterpreter@null.net].mpr Ransomware Work on PC
The [Meterpreter@null.net].mpr ransomware starts infecting your PC by scanning it for pictures, videos and important files and documents (.docx, .doc, .xls etc.) that you have saved on the system. Once it successfully spots such files and documents, it starts encrypting them and converts the extension into .[meterpreter@null.net].mpr.

This conversion of the original extensions of your files and documents into the .[meterpreter@null.net].mpr one disables you to view them. After this encryption, the [Meterpreter@null.net].mpr ransomware displays the FILES ENCRYPTED.txt text file which, thus, leads to the money extortion process.

This text file contains the ransom note along with the steps to contact the authors of ransomware in order to get rid of the data encryption. This ransomware displays these instructions asking users to contact the cybercriminals using the meterpreter@null.net email address.

How Once Can Remove the [Meterpreter@null.net].mpr From PC
Know that the [Meterpreter@null.net].mpr ransomware spreads on your computer via emails that contain malicious attachments. It also sneaks in using the installed software or vulnerable spots on your operating system.
Here are the ways to remove the [Meterpreter@null.net].mpr ransomware from your computer:
You should only use the official websites and direct download links for software download and installation. Do not give into the untrustworthy sources.
Be mindful while opening any attachments sent via emails. if you find an email address suspicious then you should refrain from downloading the attachments.
You can remove the malware by using the Safe Mode with Networking on your Windows PC and safeguard your system.
Besides, you can seek any trusted third-party tool to help remove this ransomware. While it is always best to prevent the mishap firsthand, using anti-malware will help you scan the poisonous components and remove them. However, always make sure that the third-party tool you are going to use is reputed.