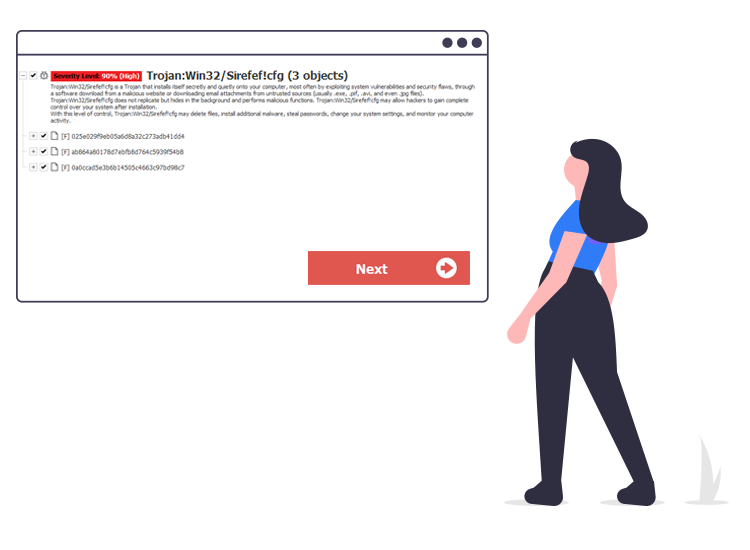 Trojan:Win32/Sirefef!cfg is malware that makes your computer vulnerable. Thus, it opens the gate for even more dangerous malware. It can work like spyware, a backdoor, and a downloader. And it means that it is just a start for your security issues.
What is this trojan?
Of course, just like any other malware, Trojan:Win32/Sirefef!cfg was made to bring money to its creators. So, they use the infected computers to mine cryptocurrencies or steal your data.
Sometimes, they only want to get payments for the banners they show in the browser. But this is the smallest issue that you might encounter. So, you have to get rid of it as soon as possible.
It is easy to detect its presence. For instance, Microsoft Defender can notify you about it. Still, it might not have the capacity to help you get rid of this kind of malware.
Although it might be difficult to know how it reached your computer, the main reason is a low level of security. Anyway, even the basic protection tools might let you know that the trojan reached your computer. But this is not enough. We will let you know how to get rid of such dangerous software.
Once it infects a PC, it disguises itself as a piece of a program or even as a temporary file.
How to remove Trojan:Win32/Sirefef!cfg?
There are many types of malware that you can easily remove manually. Still, it is easier to follow the next steps:
Open Windows Security settings.
Select Virus & threat protection.
Choose Microsoft Defender online scan.
The scan may take up to 15 minutes to run. Then, the program will restart the computer. Still, villains evolve and adapt constantly, as do their attacks. So, to make sure you protect your computer, we strongly recommend you download and use a powerful anti-virus solution or anti-malware tool, from a trusted source.