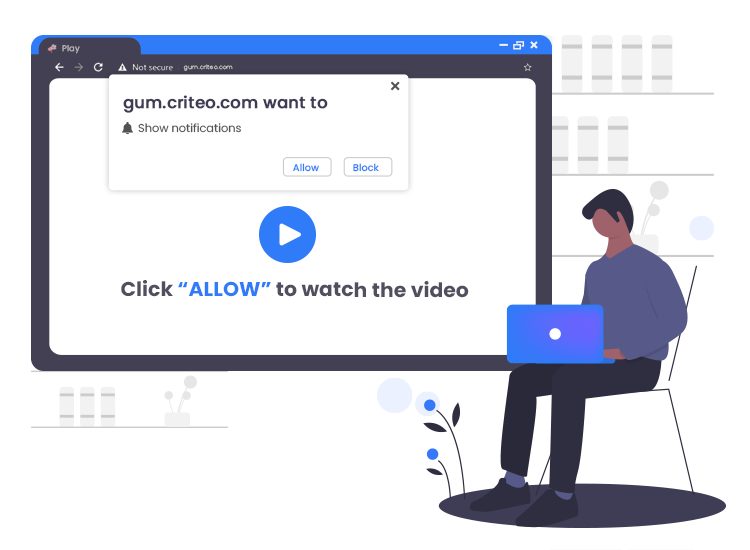 The Gum.crite pop-up virus brings ads on your computer, which cover the content in the browser. Also, it can open the browser randomly. Any click on these ads may lead to malware or unwanted program injection. Still, there are ways to remove it from your computer.
What is this virus?
If pay-per-click promotions appear on your screen, your computer might be infected with this malware. These ads bring lots of money for adware developers. Usually, such ads use "hooks", such as shocking texts, or images. Also, they may have links to harmful pages. This happens because attackers do not check the content. Their only purpose is to make money.
These kinds of pop-ups can easily trick users into clicking on them. This happens as legit marketers use such ads. The reason is that they allow them to follow users across different platforms and convert. So, hackers take advantage of the situation to make some easy money.
Gum[dot]criteo[dot]com pop-up ads belong to this category. Usually, they reach your computer after downloading freeware, from untrusted sources. The adware is delivered with the freeware, without any prior notification.
Also, it may hide behind blinking ads that appear on strange websites. Any click on such ads can bring the adware or even ransomware on your Windows computer. We recommend you to eliminate the virus as soon as possible. Keep on reading to learn how to get rid of it.
How to remove Gum.crite pop-up advertisements?
It is pretty easy to get rid of this adware, as even Microsoft Defender can deal with it. Follow these steps:
1. Open Windows Security settings.
2. Select Virus & threat protection.
3. Choose Microsoft Defender online scan.
It might last up to 15 minutes until the scan is ready, and your computer restarts. Then, your device should be clean.
Still, some users disable this tool, as it uses many resources. If this is your case, we strongly recommend downloading and running a powerful anti-virus or anti-malware tool. Remember to get it from a trusted source.
After you remove the virus, you should reset your browser. The steps we present here are for the Chrome browser, but they work pretty much the same for the others. So, here is what to do:
1. Open the "Settings" tab.
2. Go to the "Advanced" option.
3. Choose "Reset and clean up".
4. Click on "Restore settings to their original defaults"
5. Press the "Reset settings" button.
Now, you should be safe!