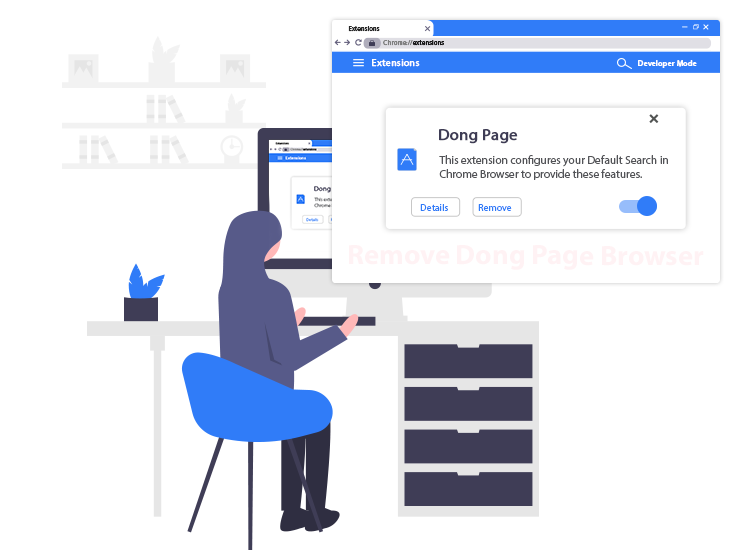 According to experienced security professionals, the Dong Page browser hijacker is a potentially unwanted application which falls under the category of browser related malware. Typically, software of this type operates by modifying default browser (e.g. Chrome, Firefox, Microsoft Edge, etc.) settings without the user's knowledge or consent in order to promote keysearchs.com (a fake search engine).
If your browser search queries are also getting redirected through browser hijacker or redirect virus such as this one, then it is suggested to get rid of it before it causes any significant damage to your system. Let's take a closer look at how to remove this browser hijacker from your computer.
What is Dong Page Browser Hijacker?
Dong Page is a piece of rogue software classified as a browser hijacker. It is mainly designed to replace the existing home page and new tab URL with its own fake search engine (keysearchs.com). The major goal of cybercriminals by making such modifications to web browser settings is to redirect user web searches to affiliated websites or sponsored ads so that they can generate advertising revenue. 
Additionally, it has a tendency to gather browsing-related data (e.g., pages viewed, IP addresses, search queries, geolocations, and so on.) and other personal and sensitive details (e.g., usernames, passwords credit card information, etc.).
Common Symptoms of Dong Page Browser Hijacker
Below are some of the common symptoms that you may start noticing if you have this browser hijacker installed on your computer.
The existing home page and new tab changes to keysearchs.com.
Frequent redirections to phishing and advertisement-related websites.
Slow loading of web pages.
Multiple pop-up advertisement alerts appearing in the search results.
How to Remove the Dong Page Browser Hijacker?
In order to completely remove this browser hijacker from your computer without performing several complicated and time-consuming steps, we recommend running an automatic scan with a powerful antivirus or anti-malware software on your compromised laptop or desktop system.
Apart from this, we urge you to follow the internet browsing safety tips shared below to keep hackers at bay.
Read the End-User License Agreement carefully before downloading/installing software.
Be very careful while downloading freeware from third-party sources.
Keep your operating system and installed software updated.
Avoid opening unexpected or suspicious email attachments.
Take a backup of all your important files and folders on a regular basis.