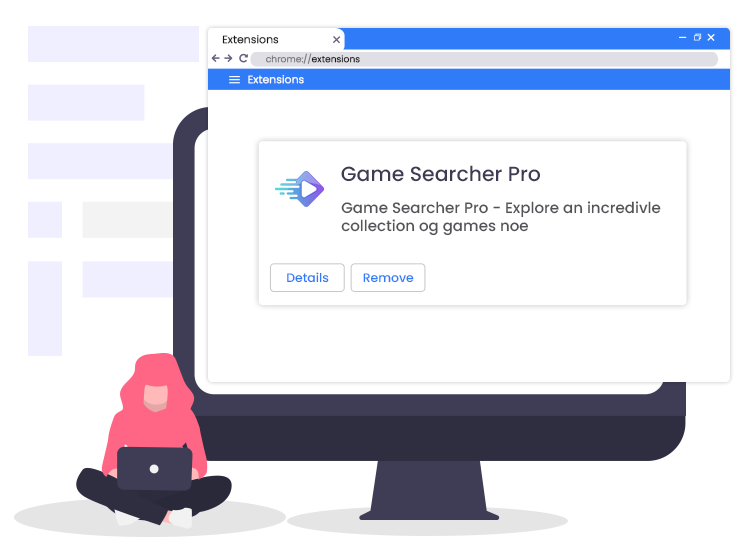 Game Searcher PRO is promoted as a useful application designed to help users provide easy access to countless free online games. However, in reality, it is a form of potentially unwanted application (PUA) that operates as a browser hijacker and makes several unauthorized changes to the web browser's settings without the user's permission. 
If your search queries are redirecting through the nasty search.gamesearcher.pro browser hijacking virus, then we suggest you get rid of it forthwith.
What is Game Searcher PRO Browser Hijacker?
As said above, Game Searcher PRO is a form of unwanted software that operates by making modifications to the Internet browser settings in order to promote the address of a fake search engine (search.gamesearcher.pro). This type of redirect viruses also possesses data tracking abilities, which are employed to gather browsing-related data (e.g., commonly visited websites, search history, geo-locations, IP addresses, and so on.) and other personal/ sensitive information (e.g., passwords, credit card details, etc.).
Common Symptoms of Game Searcher PRO Browser Hijacker
You are most likely to encounter the following symptoms if your computer has been infected with a browser hijacking virus.
The default search engine, new tab URL, and homepage changes to search.gamesearcher.pro address.
Frequent redirects to misleading or harmful websites.
Browser's search queries are getting redirected through the address of fake search engines.
Automatic download of executable (.exe) files from unreliable websites.
Websites taking longer than normal to load.
Lots of unwanted misleading/harmful advertisements start appearing on the search page.
How to Remove Game Searcher PRO Hijacker?
The easiest yet most effective way to remove browser hijackers like Game Searcher PRO and restore your web browser settings is by running a scan with a trusted and powerful antivirus or anti-malware software on the compromised system.
In addition to this, we recommend following the below-mentioned Internet safety rules to reduce your risk of falling victim to a cyber-attack.
Carefully read terms of use and end-user license agreement (EULA) documents before downloading/installing software on your device.
Be cautious while downloading freeware from third-party sources.
Keep your operating system and web browser software up-to-date.
Do not open suspicious or unexpected email attachments.
Make sure your passwords are strong and quite hard to crack.
Take regular backup of your precious and important files to cloud storage or external drives.