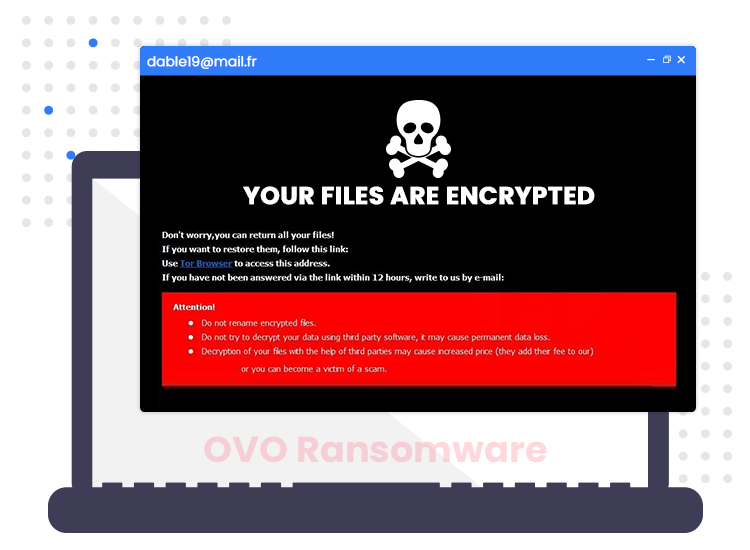 'OVO' is the name of a newly detected ransomware type of virus, belonging to a well-known Dharma ransomware family. After evading the security vulnerable system, this program is designed to use strong asymmetric encryption algorithms to encrypt victim's files and demand a ransom fee for the decryption. Instead of directly encrypting victim's files, it renames them with the following pattern: original filename, unique ID, cyber criminals' email address, and the ".OVO" extension. 
Once this encryption process gets complete, it drops ransom note ("FILES ENCRYPTED.txt") into every compromised folder to inform users about the ransomware attack and instructions on how to make a ransom payment regain access to the infected files.
How Does 'OVO' Ransomware Get Inside the Targeted Computer?
Below are the some of the most common distribution techniques that cybercriminals opt to inject ransomware-type infections into the targeted systems.
Malspam (malicious spam) campaigns: Major parts of malware-type infections are spread through junk email attachments, malicious URLs, and phishing messages.
Fake software or browser update alerts: Creators of malevolent programs uses fake browser and software update alerts (e.g., update your flash player) to infect users with malware.
Drive-by download: This type of attack technique is used to silently install malicious programs on a victim's computer.
Third-party unreliable download sources: A significant amount of harmful malware and ransomware-type infections are the results of downloads from untrustworthy or dubious sources.
Pornographic Websites: Websites that provide adult and porn-related content also have a high probability of being a carrier to malicious programs.
Peer-to-Peer networks: Hackers often hijacks peer-to-peer (P2P) file sharing and hosting networks (e.g., torrent) to spread files containing malicious software.
Software vulnerabilities: Bugs and flaws of outdated software are exploited by hackers to distribute malware-type infections.
How to Protect Yourself against OVO Ransomware?
The best way to protect your computer against ransomware, spyware, and other types of prevailing malware attacks is by using a trusted and powerful anti-malware software.
In addition to this, you are advised to follow the below-mentioned internet security tips to reduce online risk and prevent hackers from gaining unauthorized access to your computer devices.
Use a dedicated antivirus/ anti-malware and keep it current.
Don't download suspicious attachments or click links in emails from unknown senders.
Make sure your computer operating system and other installed software are updated at all times.
Avoid using free public Wi-Fi networks or hotspots.
Make sure your passwords are hard to crack.
Backup all your valuable files to cloud storage or external devices (e.g., Pen drives).