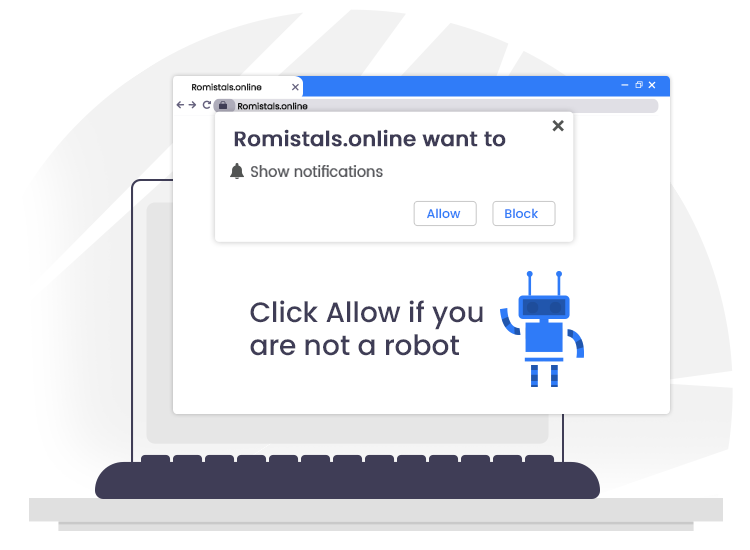 According to cyber threat analysts, Romistals.online pop-up ads is a dubious webpage that lures unsuspecting visitors into subscribing to its browser notifications so that they can send unwanted advertisements directly to the desktop or the web browser.
If you're seeing Romistals.online pop-up ads on your computer, then it is advised to remove notifications subscription forthwith. Keep reading ahead to know how to get rid of these undesired advertisements from your system. 
What is Romistals.online?
As said above, Romistals.online is a rogue/ misleading website that utilizes social engineering methods (e.g., Clickbait technique) to trick users into signing up for its spam notifications.
In most cases, users do not visit pages like this on purpose – they usually get opened after clicking intrusive adverts, while visiting other shady websites or when there are some PUAs (Potentially Unwanted Applications) installed on the operating system.
Once visited, the web page displays 'Confirm notifications' prompts (e.g., "Click Allow to continue," "Please tap the Allow button to verify that you are not a robot") in order to get your permission to send browser notifications in form of popup adverts to your computer.
It is strongly advised to avoid clicking on the "Allow" button, as it can further lead you to more malicious or similarly hazardous webpages.
How to Remove Romistals.online Pop-up Ads from Your PC
Here are the detailed instructions on how to stop seeing intrusive advertisements from untrustworthy and malicious websites such as this one.
Note: The steps shared below are for people using the Google Chrome browser. Keep in mind that the steps may vary slightly for different browsers.
Tap on the Chrome menu button (three vertical dots) on the upper right-hand corner of the screen, and then select the Settings option.
Scroll down to the "Privacy and security" section, and then click on the "Site settings" option.
Then, go to the "Notifications" settings available under the "Permissions" section.
Now locate the Romistals.online web page or other suspicious URLs in the Allow section, and then click the "Remove" or "Block" button.
In addition to this, follow the below-mentioned security tips and web browsing practices to reduce your chances of falling victim to an online scam or another form of cybercrime.
Get a powerful antivirus/ anti-malware software for your device.
Don't open email attachments from unknown or suspicious senders.
Install system and other software updates as soon as they become available.
Avoid using public Wi-Fi or unrecognized networks.
Backup your valuable files to external storage devices (e.g., Pen drives).