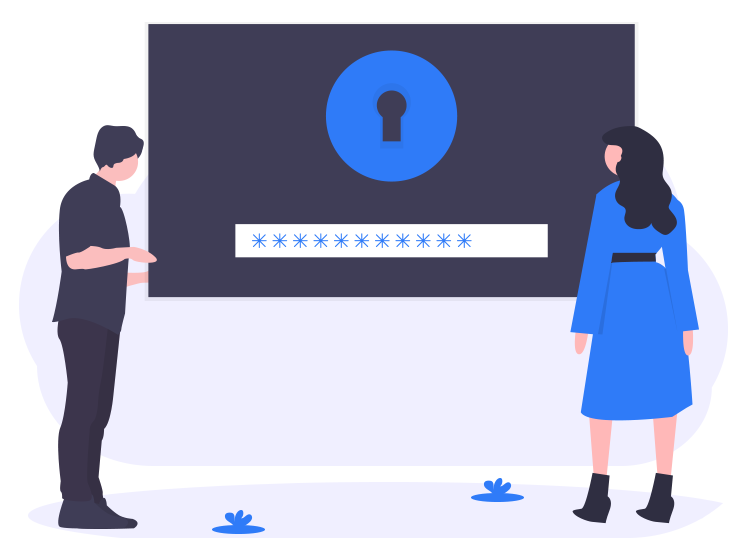 Secure password sharing 101: "Never share your passwords!" advice is still true today with limited exceptions. Passwords and authentication credentials may provide access to a number of things you do online, so you should keep them safe and private to maintain your privacy. However, there are times when you have to share your login credentials and password combinations with your partner, co-workers, friends, and others. Following are some of the major reasons that may prompt you to share your passwords with others. Let's have a quick look at them before moving on to the tips for sharing passwords securely.  
Company's accounts on social media sites like Twitter, Tumblr, LinkedIn, etc.
Business account passwords when you're not in the office.
Placing shopping orders through other user's prime accounts like Amazon
Passwords of entertainment subscription services like Netflix, iTunes, ESPN+, etc.
Joint bank or credit card accounts
Paying household bills
Wi-Fi and internet hotspots passwords, entrance gate codes, server keys etc.
Online storage accounts like Google Drive or Dropbox for family photos, documents, etc.
Other emergency cases
Apart from the above ones, there are countless other scenarios in which you might want to ensure a secure password sharing with someone else. Our current lifestyle and work make password sharing inevitable. We all have to share password access with someone at some point in life. So when you have to, here are some tips on how to share passwords securely without jeopardizing your own digital privacy or the company's sensitive information. 
Secure Password Sharing with Others
Below are some of the important strategies that you need to keep in mind when sharing passwords with others.
1. Make sure that you share a strong, unique, and hard to guess password.
Most people use a single and easy to remember password across several accounts so that they can access them easily. However, it makes so much easier for hackers and cybercriminals because they not only need your one password to break into your multiple online accounts. Hence, it is strongly recommended to use a separate and hard to guess password for each account to minimize the risk of being a victim of data or identity theft.
2. Share passwords using a trusted Password Manager application.
A password manager is a digital vault that allows users to store, generate, and manage all of your passwords in one place. It helps lock all your complex passwords with a fingerprint lock or one master password. Most password managers available on the web uses advanced 256-bit AES encryption algorithms that allow users to share encrypted passwords with others who need them. Secure password sharing – all you need to know.