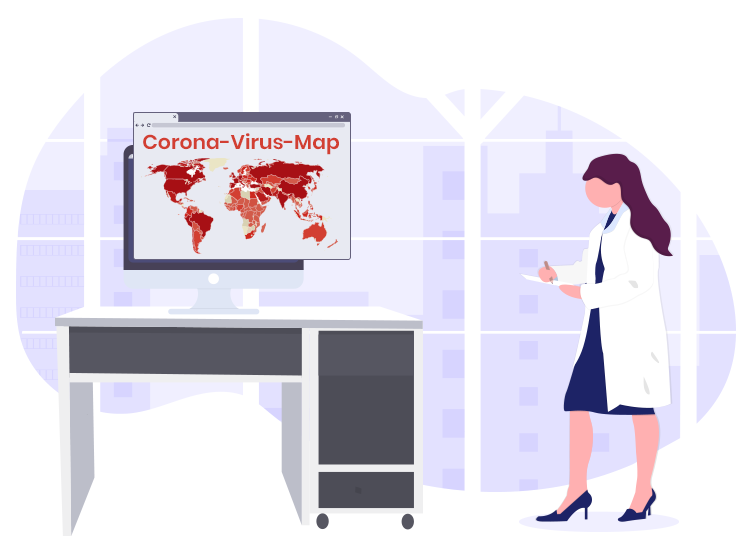 For more info about Corona-Virus-Map.com, the following post will provide you all the necessary data about what it is, what it causes, and how to remove it from your device. 
The ongoing pandemic of coronavirus disease (COVID-19) has disrupted business operations all over the world but cybercriminals and black hat hackers are showing no signs of slowing down as they seek to take advantage of people's fear and panic surrounding the virus.
To spread awareness about the coronavirus pandemic, many global news agencies and technology companies have created dashboards to keep a track of the active coronavirus infections, casualties, find hotspots and clusters of infection, etc.
However, cyber-security researchers discovered that the public's increasing demand to access accurate and relevant information on Covid-19 infections have created a vulnerability that malevolent hackers are exploiting to inject a harmful program named 'Corona-Virus-Map.com'.
Corona-Virus-Map.com: All You Need to Know
Unlike its name suggests, Corona-Virus-Map.com is not a website's domain name. At present, it is one of the most destructive and widely distributed malicious programs within our secured computer networks. Classified as a Trojan virus, Corona-Virus-Map.com is promoted by cybercriminals as a genuine program that pretends to present you with accurate information about new COVID-19 infections, deaths, and other details.
However, in reality, it installs a malicious program named AZORult Trojan on the victim's computer that attempts to accumulate and steal information such as user names, browsing history, passwords, IP address, credit card numbers, and other sensitive data. Cybercriminals further use this stolen information for other malicious activities, such as selling it on the dark web or for committing financial fraud or bullying.
As of now, the "Corona-Virus-Map.com" Trojan only affects Windows operating systems but according to cybersecurity experts, malicious actors will soon find a way to develop a stealthier version that can infect other devices as well.
However, if your device is already infected with a strain of the AZORult Trojan virus, we strongly recommend you to change all of your online passwords (including bank accounts) and follow the below-shared tips to eliminate the threat immediately.
How to Remove Corona-Virus-Map.com Trojan from Your PC
You are strongly advised against opening attachments or links present in suspicious emails, especially those received from unknown or unfamiliar senders (email addresses). Furthermore, make sure you have a robust anti-malware program installed to prevent such malicious programs from entering your system.