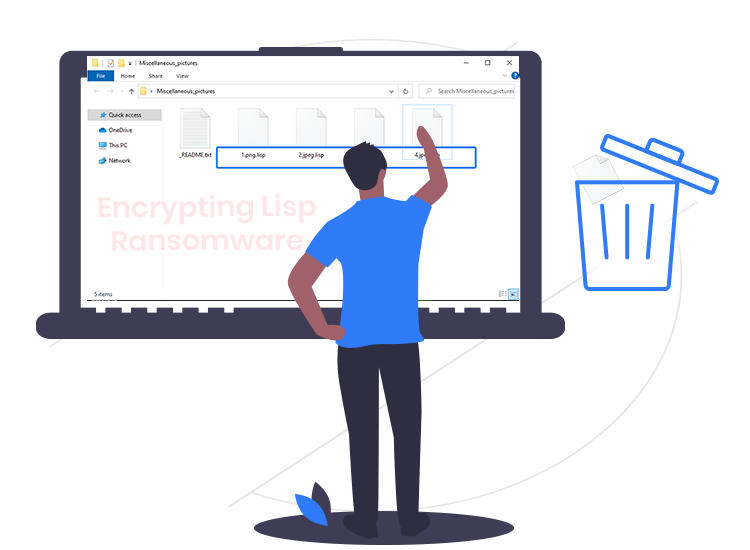 The cybersecurity experts dubbed the new crypto virus variant as the file-encrypting Lisp ransomware which belongs to a well-known Djvu ransomware family.
Lisp is a vicious ransomware-type program that infiltrates the security vulnerable system and encrypts and renames stored files with the help of a strong cipher algorithm and drops _readme.txt file as a ransom note with instructions on how to pay the money for the restoration of encrypted data.
Lisp Ransomware: All You Need to Know
Lisp is an advanced and highly dangerous file-encrypting virus that first makes entries in the Windows Registry to achieve persistence so that it could stay concealed from the regular antivirus program and user.
It is designed by malware authors with the sole intention to encrypt victim's data and extract huge ransom amounts. If you're seeing the ".lisp" extension at the end of your file names, it means your machine is infected and the center of cause is this newly detected Lisp ransomware.
It targets all kinds of data stored on the victim computer's hard drive, such as work documents, music, images, archives, videos, and renders them useless. Whenever a victim tries to open any of these locked files, it shows a ransom note (_readme.txt file) with instructions on how to purchase decryption software to recover the locked files.
It further states that the only method for recovering files is to purchase a private key and decrypt software which can be purchased either for $490 or $980 worth of Bitcoin or other cryptocurrencies. Also, if the victim's contact the developers of this ransomware program within 72 hours via the provided email address (restoremanager@airmail.cc or helpmanager@mail.ch), they can get a massive 50% discount on the price of the decrypt software.
However, it is worthwhile to mention that you should never believe these cyber crooks because even after you transfer the money, there's no guarantee that you would be able to get your files back.
How to Remove Lisp Ransomware from Your Computer
Since cybercriminals constantly evolving the sophistication of their attack methods, it is nearly impossible to manually detect and remove next-gen malware threats from a targeted system. Hence, the most convenient and non-cumbersome way to find and remove deadly malware threats like ransomware, spyware, rootkit, or any other potentially unwanted program is by using robust anti-malware software. A potent anti-malware program is a perfect alternate of regular free antivirus software when it comes to taking care of advanced cyber threats.