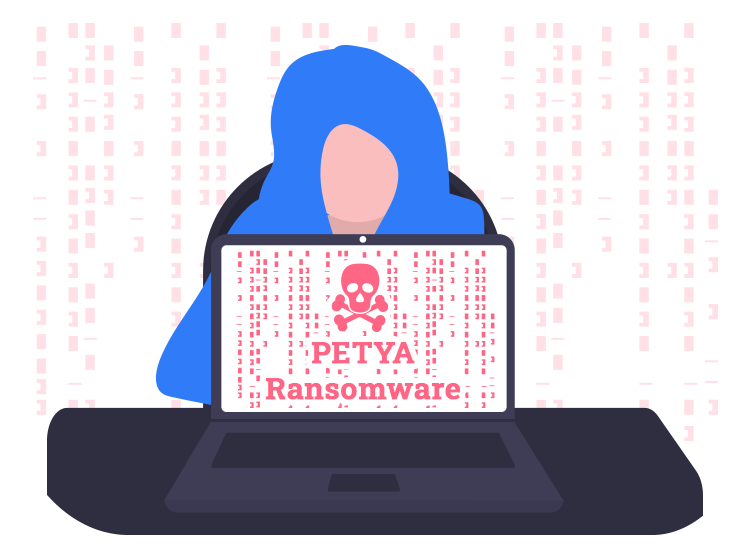 First discovered on June 27, 2017, the Petya Ransomware is a lethal ransomware that has attacked several countries. Also known as the External Blue exploit, big European organizations were its initial targets. 
The spreading rate of Petya is much lower as compared to the Wanna Cry ransomware attack. However, having said that both works on the same methodology of encrypting stolen data and asking for ransom in Bitcoin for decryption. 
Petya Ransomware Spreads: Working & Distribution Techniques
It usually gets into your system through infected websites, spam emails, pop-up ads from third-party agencies, etc. They are specifically designed to infiltrate your computer system, encrypt your personal and confidential data, and then ask for a ransom for the decryption key. 
In addition to this, they also place a warning message on your device saying that if the ransom is not paid your data will either be released on the dark web or will be destroyed completely. 
To maintain full anonymity the ransom is asked in cryptocurrency, specifically Bitcoin which helps hackers to hide their identity. 
How To Protect Yourself From Being a Victim of Petya Ransomware?
Ransomware can leave you in a helpless position and even if you decide to pay the ransom, there is no guarantee that you will get the decryption key. So, prevention is what the experts suggest. 
Here are a few prevention and protection tips that you should follow in daily routine to avoid being a victim of this lethal malware. 
Backup your data regularly: If you become a victim of Petya ransomware, there is no chance that you will get the stolen data back. So, if you want to limit the data loss, we recommend you to create backups on a regular basis.
Never disclose your personal details while filling feedback forms, answering unsolicited emails. Such portals are usually exploited for carrying out phishing scams and fool you into disclosing your personal and financial details, which are later on used for illegal activities.
Never Pay Ransom. No matter how badly you want your data back, paying the ransom is never going to work in your favor. 
Use filters and content scanning mechanisms for your email account. This will help you block spam emails and infected attachments.
Use powerful antivirus software and Firewall mechanisms to protect yourself from Petya ransomware. A good security suite will strengthen the security walls of your device and block all harmful viruses from attacking your system.
Use one of the best Ad-blockers to block suspicious and annoying ads from appearing on your screen, they are often infected with malware and can result in a compromised system.
Use a VPN Connection: Security experts talk very highly about VPN connections, not only hide your identity but also protect you from malware that is spread all over the internet spectrum.
Petya ransomware is a highly destructive PC threat and can result in huge data losses, we recommend you to follow basic precautionary practices in your daily life to avoid being a victim.