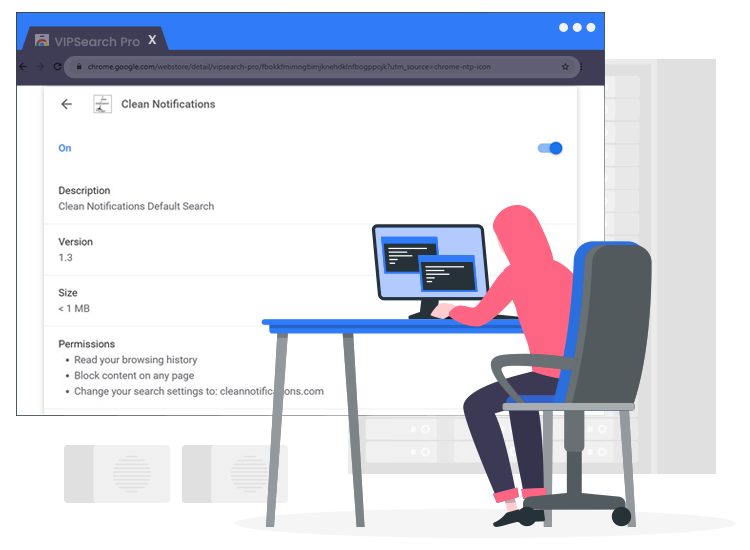 Clean Notifications browser hijacker belongs to the family of malware that targets Google Chrome, Mozilla Firefox, Safari, and other popular internet browsers. Due to the questionable methods used to distribute Clean Notifications, it is also categorized as a potentially unwanted application (PUA). 
Soon after getting into the targeted computers without the user's intention, this browser hijacker promotes a fake search engine URL (cleannotifications.com) by making several modifications to the default browser's settings. The fake search engine often shows misleading results that redirect the web traffic to sponsored pages that run intrusive advertising campaigns. This is most likely done to generate advertising revenue via the pay-per-click (PPC) model. 
If you are one of the unlucky users whose search queries are getting redirected to advertising and scam sites, then keep on reading as this guide is aimed to help victims remove this browser hijacker and restore original browser settings.
Clean Notifications Browser Hijacker: Everything You Need to Know
Clean Notifications is the name of a potentially unwanted application that belongs to the group of browser hijacker infections. After successful infiltration, this hijacker assigns a fake search engine URL (cleannotifications.com) as the default search engine, homepage, and new tab addresses without even asking for the permission of the owner.
Since the fraudulent web searcher is unable to generate unique results, it redirects the user search queries to Bing and other genuine search engines. The search results displayed by the Clean Notifications hijacker are not organic as they are filled with loads of intrusive ads and sponsored links.
Common Symptoms of Clean Notifications Browser Hijacker
If your web browser is hijacked by a rogue software such as Clean Notifications, then you may notice a few of the below-mentioned symptoms or signs on your computer.
Your default browser settings are manipulated without your consent.
Your browser search queries are constantly redirecting to unsafe web domains.
Your system screen is flooded with deceptive advertisements or sponsored links.
Unwanted programs are getting installed without your approval or consent.
How to Remove Clean Notifications Browser Hijacker from PC?The best and most convenient way to remove Clean Notifications and other hidden threats (e.g., ransomware, spyware, rootkits, trojans, adware, etc.) from the workstation is to use a powerful and well-trusted anti-malware tool.