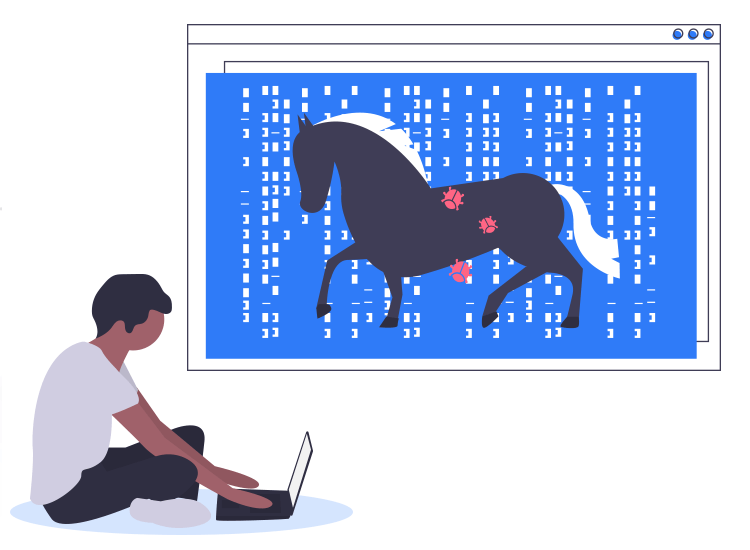 Let's try to have a better understanging of a proxy trojan and how can we stay safe.
Let's first begin with what a trojan is and how it spreads. Often addressed as a Trojan Horse, a Trojan virus is a malicious piece of software that is designed to take full control of your device. It masquerades itself as a legitimate code but can disrupt, damage, steal, and cause serious damage to your device.
The trojan virus usually tricks users to download legitimate-looking software. For example: Say you have received an email from a known source and you open the attachment embedded in it. The otherwise legitimate email is sent by cybercriminal along with an infected attachment that installs the virus on your device.
On execution, the virus gets active and starts spreading itself.
What is Proxy Trojan?
A Proxy Trojan is a malicious code that is specifically designed to attack your device and use it as a proxy server. It gives full access to your device to cybercriminals who can then use your device to carry out multiple actions including illegal activities, credit card frauds, identity theft, and also target other networks.
It is designed to hide the actual location of the original host device that means full anonymity.
How to Help Against Malicious Trojans?
Here are a few security tips to keep you safe from proxy trojans
Update your operating system from time to time to patch it against all security loopholes. Outdated systems are always on the radar of cybercriminals and are easy to exploit.
Ensure that you backup your files regularly, this helps in reducing the losses.
Install and use a powerful security suite to safeguard your device against all known and unknown viruses. In addition to this run scheduled scans on your device for better protection.
Never click on emails, whose source is not known to you. Phishing emails is one of the prominent methods used by hackers to spread Trojan horses and other malicious malware.
Use strong passwords along with 2 Factor Authentication to protect your sensitive and confidential information.
Never click on a pop-up that gets displayed on your screen out of nowhere, simply click on "X" to close then. You can additionally use a strong Ad-blocker to prevent these ads from popping up on your computer screen.
Don't rely on third party websites for downloading new software.
Do not visit unknown and suspicious websites.
Stay alert, vigilant, and don't take chances.