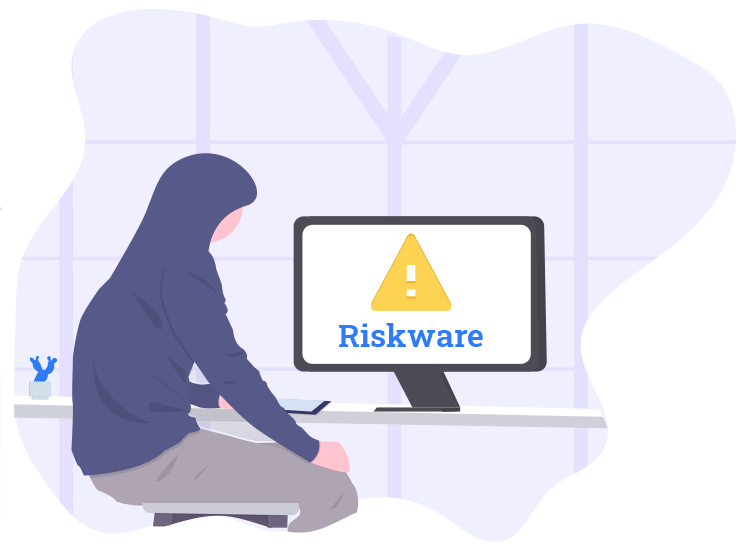 What is riskware? Riskware is a combination of "risk" and "software" and is defined as the category of legitimate programs that can create havoc on your device and network if exploited. These programs are not designed to harm your computer systems in the first place but can cause damage due to software incompatibility, security voids, and legal violations.
 It can hamper the overall working of your computer system, affect its performance, hijack your system, cause disruption and speed, and even slow down your internet connection. The grey area of program vulnerabilities makes it a challenging risk to mitigate.
Common Examples of Riskware 
Let's have a quick look at some of the common types of Riskware that will help you prepare yourself against the scope of associate threats.
File Downloader: These are legitimate programs that are difficult to get identified by any antivirus program. The primary purpose of these programs is to access the internet connection and download other programs on your device that can cause harm. 
Remote Access: These are programs that provide verified remote access to your device. For example, you give remote access to your device to an IT executive in your office. Here, cybercriminals can exploit the remote access application and earn access to your device without being noticed.
Operating System Patches: Designed to patch system vulnerabilities, OS updates can result in unwanted system issues. Let's understand this with the help of an example, Apple released a security update to fix the security bug in its software which further made the device more vulnerable to hacking and jailbreaking. 
Password Management programs and utilities.
Auto-installers.
IRC- Internet relay chat clients.
Internet server services like telnet, web.FTP etc.
Looking at the varied examples of Riskware, it is extremely difficult to identify each of them, thus security experts recommend clubbing them according to the risk they impose on your device. This will help you strengthen the security walls of your computer system. Some of the common threats that Riskware imposes on your device are: 
Programs that can monitor your working pattern, browsing patterns, and overall working behaviors.
Programs that violate the law and break the line of legality.
Software that can result in added vulnerabilities.
Programs that can provide unauthorized access of your device to hackers.
Prevention Tips | Protection From Riskware
Follow the below-mentioned protection tips before you plan to download any new program.
Avoid downloading programs that can function with admin-level permissions. Only use the software that needs your permission to run.
Read the terms and conditions properly.
Uninstall programs that are hampering the proper functioning of other programs.
Only rely on manufacturer's websites and reliable app stores for downloading programs.
Go through the EULA document to check the legality of the program.
Since Riskware is a tricky piece of the possible threat that is difficult to track, it is essential to carry utmost caution and vigilance while downloading new applications and programs on your device.