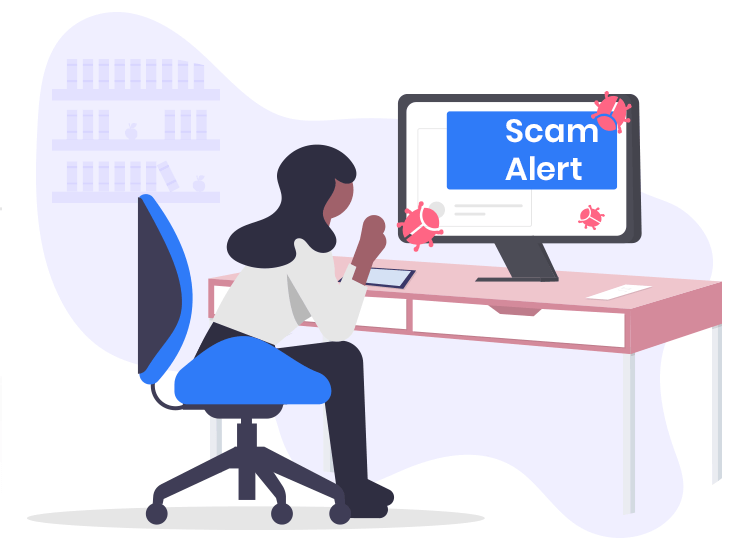 What is Scareware: Also known as a fraudware and rogue scanner software, a Scareware is malicious software that aims at tricking people into visiting infected websites. It appears as legitimate pop-ups on your computer from an antivirus software developer warning you of the possible threats. 
In reality, they aim at stealing confidential and sensitive user's information by forcing them to download a program that could help them fix the issues in their device.
Apart from infected downloads, cybercriminals also deploy scam emails to spread Scareware. On accessing the email attachment, you will be flooded with multiple offers forcing you into disclosing your bank details to buy worthless things. 
Scareware | What does it look like? 
In most of the cases, a Scareware looks like a warning message stating that your system is in danger and also includes virus alerts. It usually appears in the form of fake screen alerts, virus alerts, malware removal tools, phoney software updates used to threaten and convenience users into taking corrective action. 
The threat notifications are false and are only designed to force you into purchasing and downloading malicious software. These fake messages appear repeatedly on your device and impersonate themselves like legitimate programs. 
 Some of the most common forms of alerts messages used by a cybercriminal in Scareware are: 
Your device is infected.
Spyware Found! Warning.
Warning! Privacy Violations Identified.
How does an attack take place? 
Scareware can use multiple methods to attack people, the most common ones are described below.
Identity Theft: Scareware is a malicious malware that can invade your computer with the sole purpose of stealing your private and confidential information.
Accessing your Financial Details: It also aims at stealing your credit card and bank information by fooling you into buying legitimate-looking software and programs.
In some cases, Scareware can also try to take full control of your device turning it into a spam-sending zombie robot.
Preventive Measures | How To Defend Against Scareware?
You can follow a few simple tips to stay protected:
Keep your device up-to-date.
Always use a legitimate and official source to download and install software and other programs.
Never fall for fake alerts and pop-up notifications; these are usually embedded with clickjacking features directing you into buying fake software. Simply click the "X" button to close the pop-up window.
Avoid opening email attachments from suspicious and unknown sources.
Trust your instinct and avoid doing what does not feel good.
Check for the HTTPS link. HTTP links are usually infected.
Be vigilant and don't fall for scary messages designed to create a sense of fear in you.
Use strong antivirus tools and perform regular system scans. 
Stay alert and face the fear with utmost caution and vigilance.