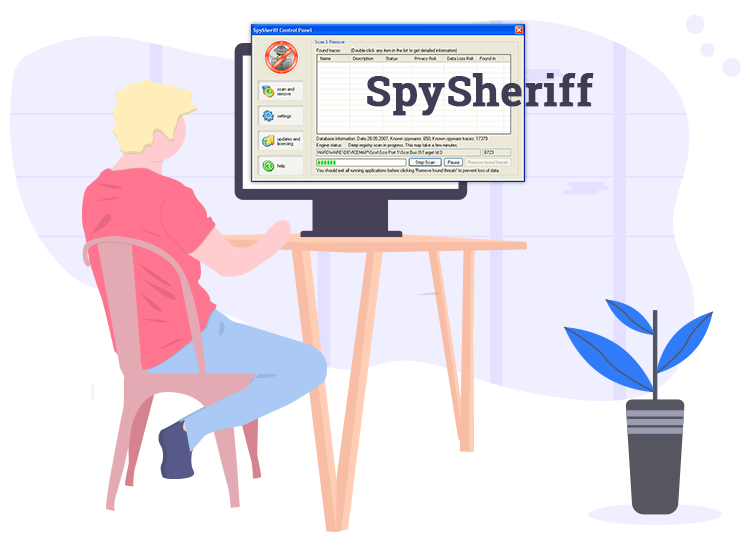 The SpySheriff scareware is a rogue program, one of the most devastating and widely circulated malicious threats on the Internet.
Rogue security software is a kind of Internet fraud, a malicious program that displays a fictitious Windows warning stating that someone's machine is infected with a computer virus, and mislead the user's to install or purchase fake malware removal tool in the belief that they are purchasing genuine antivirus software.
One such example of rogue antiviruses is SpySheriff. It disguises itself as a genuine spyware removal tool and tries to deceive the targeted users with bogus security alerts, scaring them into buying the product. In addition to this, it prompts the victims to pay for the removal of malicious threats that never existed in their computer systems.
Rogue programs like SpySheriff are not only using Windows vulnerabilities but also using advanced social engineering (fraud) techniques to baffle the inbuilt security firewall of the Windows operating system and further install itself onto the targeted computers.
It's important to remember that by buying the "Rogue anti-spyware SpySheriff program or utility software" you will be submitting your personal info to unscrupulous persons and may also end up being a victim of identity fraud or data theft.
What is the Purpose of the SpySheriff Program?
Rogue security programs like SpySheriff are intrusive and have a sole purpose – to take your money. They often tend to rely on the following things:
Convincing you that their scanning results of malware infections are real.
Being so annoying that you decide to pay the money.
Such rogue anti-spyware software often replicates the look and brand name of the genuine security software, including Microsoft software. Therefore, it gets extremely difficult to discriminate them from legitimate ones.
How Do SpySheriff Works?
Rogue software like SpySheriff are usually a form of scareware (software that uses social engineering tactics to cause anxiety and shock) that manipulates users through fear and targets them by sending a lot of misleading messages from their fake software or websites.
These malicious programs can neither scan nor clean computers, they are actually designed to persuade users that their machines are at risk and scare them into purchasing fake computer security software
Here's what might happen if you have a rogue software like SpySheriff installed on your system:
You will see a scanner on your computer screen – it might appear as you surf the Internet or you might have unintentionally downloaded it.
Once the scan is finished, you will be shown a large number of security threats found on your PC.
The user might see various pop-up ads of phishing websites that pretend as a support page of legitimate sites like Microsoft claiming that "your system is infected".
These Rogue program also targets Windows firewall and security applications to stay concealed from the regular antivirus program and user.