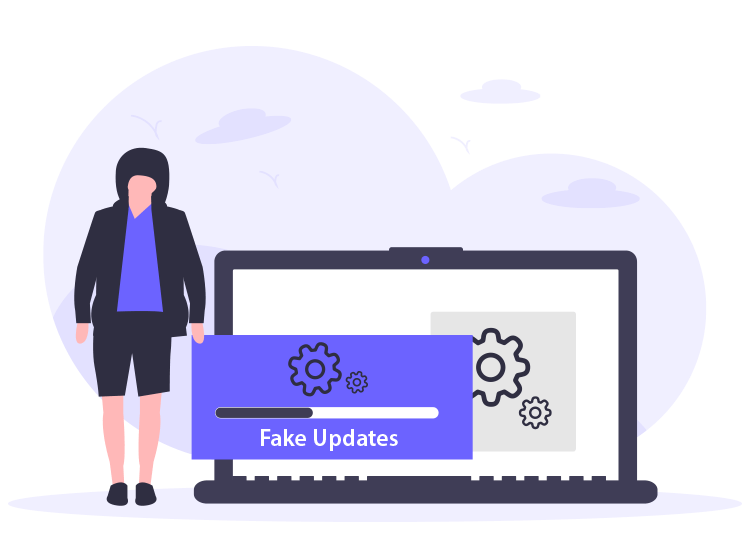 Perhaps the most prominent recommendation about maintaining your system performance is to regularly update the operating systems and apps of the devices you use. However, you need to know how to avoid fake software updates.
An essential step is to patch security holes to prevent malware attacks. What cybercriminals can sometimes do, is use the very pretext of software updates to infiltrate your system and infect it with malware, ransomware, spyware, etc.
So, if you are wondering how cyber exploiters attack people on the pretext of these software updates, then let's take a deeper look at it through this post.
How do cybercriminals use fake software updates to install malware?
Cybercriminals use the very software updates that are meant to protect your system to install malicious programs into your system that ultimately results in confidential data loss.
So hackers and exploiters send alerts for fake updates via emails, pop-up window notifications, and digital ads on the web. 
Users may easily be confused as the hackers use the same logos, branding, color schemes, and may also include URL and email addresses quite close to that of the real software company.
Usually pop-up notifications have the maximum number of reach and can, therefore, be more potent.
Once a user is fooled into downloading and installing these fake software updates, then the cybercriminals can gain remote access over their system, install more malware, and dig out all confidential information about the users from their computers.
Also, when the hackers gain access to servers, they can then install keyloggers to track the keystrokes. This means that your usernames and passwords are easily compromised.
How can you avoid fake software updates?
Spotting a fake software update can be challenging. Therefore, the wisest approach is to avoid installing updates that do not appear to be coming from genuine sources.
You can also change the Update Settings in your PC from automatic to "notify me when updates are available." This way you can have more control over what is being installed on your system.
Avoid clicking on software update notifications, and links which come via emails or the pop-up window. 
If at all you want to install the latest updates that are absolutely necessary and genuine, then go to the manufacturer's website for a particular application, search for the latest update of the software model that you have, and install the updated version of that tool into your system.
This is the most foolproof way to avoid installing malware in the guise of essential software updates.