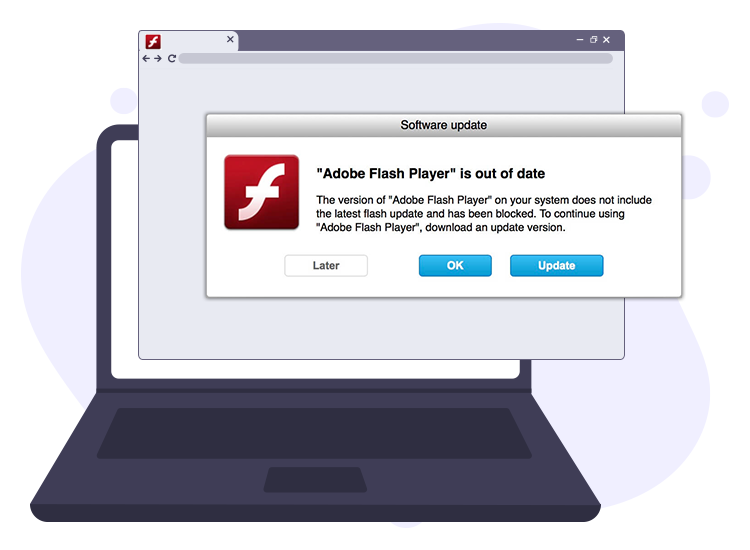 If your web browser is constantly being redirected to the "Adobe Flash Player is out of date" pop up, then there are high chances that you have accidentally installed an adware program on your computer system.  Want to know what Adobe Flash Player pop-up is and how to remove it from your computer in easy steps? Go through the entire guide to get a deep insight into this matter.
'Your Flash Player is out of date' Pop-ups: Everything You Need to Know
'Your Adobe Flash Player is out of date' or 'Update your Flash player' is nothing but a browser-based scam. These pop-ups actually display fake error messages to trick users into installing potentially unwanted programs (PUPs) on their laptops or desktop computers. Designed by scammers, this type of advertisement window appears on the new tab of the web browser advising users to download and install the new version of Adobe Flash player on the system as the current version does not include the latest security updates and has been blocked.
However, upon clicking the 'Update Now' or 'Install' button, it doesn't download an update for legitimate Flash Player but silently installs an Adware/PUP on the victim's computer.
Why am I seeing the "Update Your Flash player" Pop-ups?
The major culprit behind the Adobe Flash Player pop-up ads is the adware program that you might have accidentally installed on your computer while surfing the internet. The advertising-supported software is usually comes bundled with a number of free software which we commonly call freeware. Unfortunately, most of these free software that you download from the Internet do not adequately disclose that additional programs or applications will also be installed. As a result, you may end up installing an adware program on your system without your knowledge.
Once installed, your web browser starts redirecting you to various third-party websites that promote Adobe Flash player pop-up scams.
How to Prevent Adobe Flash Player Fake Pop-Ups
The "Your Adobe Flash Player is out of date'" fake pop-ups are managed by a group of hackers and cyber crooks that fools users into purchasing/installing their fake security tools, collect personal and sensitive data and even cheat a huge sum of money.
Hence, you should always pay close attention to terms and conditions before you agree to install a program. In addition, enable your popup blocker and also run an automatic scan with a trusted antivirus/anti-malware software to get rid of the fake pop-up ads and already installed adware programs on your system.