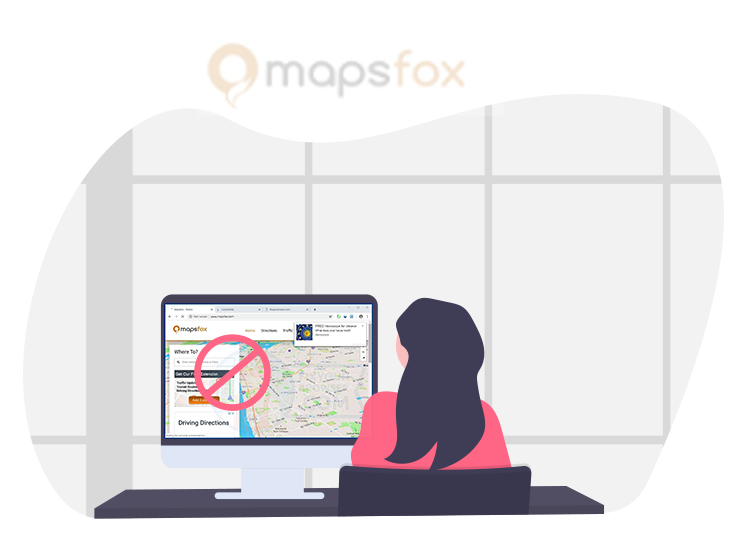 MapsFox is a deceptive adware browser extension that is designed to trick innocent users into clicking annoying push notifications and pop-up ads from different malicious sites to inject unwanted harmful programs directly to your laptop or desktop computer. These potentially harmful programs (PUPs) are further used by cybercriminals to accumulate the victim's data to commit fraud. 
Has an unfamiliar pop-up or alert message appeared in your web browser? If so, then do not panic as the following article will help you identify and remove fake advertising-supported software, a.k.a., adware. This one should be kept away from your computing device if you are concerned about your privacy.
Before moving on to the removal solutions, let's dig a little deeper to know about its overall working methodology and harmful impacts on the computer system.
What is MapsFox Adware?
MapsFox is promoted as a legitimate browser extension that aims to provide accurate directions and transit routes to help you make your daily commute fast and better. Despite the fact this may sound like a useful service, it interrupts your online surfing to a great extent.
This malicious adware application displays intrusive pop-up ads and unwanted advertising banners but not originating from the websites you are browsing. And since it looks professional, most of the user clicks on these MapsFox advertisements that help publishers or developers generate pay-per-click revenue.
Following are the examples few examples of advertisements shown:
"Powered by MapsFox"
"Ads by MapsFox"
"Advertisements by MapsFox"
"Ads powered by MapsFox"
"Brought to you by MapsFox"
Common Symptoms of MapsFox Adware on PC
When your computer system is infected with the this adware infection, you may notice the following signs. 
Unstable behavior of your default web browser
Sudden decrease in computer speed and performance
Slow response time
Frequent redirects to unsecured websites
New add-on toolbar and extensions are added in your browser
Internet connection keeps disconnecting
Warnings messages to update your system
Automatic download of executable files from untrustworthy websites
How to Remove MapsFox Adware from Your Computer
The manual removal process of this particular adware is a quite time-consuming process and requires a lot of technical know-how. However, if you still want to give it a try, you can use the Control Panel to locate and delete any suspicious program from your device. 
On the other hand, if you prefer doing as little work as possible, you can always use a potent anti-malware software to get rid of the annoying ads and other potentially harmful programs
It automatically removes adware, browser hijackers, spyware, and other next-gen threats and fixes your computer system in no time.