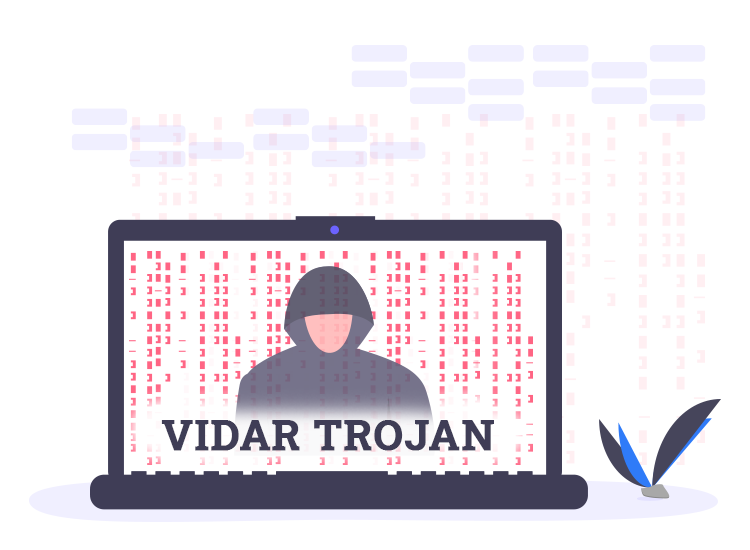 The Vidar trojan, commonly known as Vidar Stealer, is one of those high-risk Trojan viruses used by cybercriminals to cause damage, disrupt, gather info, or download and install other harmful programs such as spyware, ransomware, malicious toolbars, adware, etc. 
The Trojan horse malware category is extensive and is considered as one of the most damaging and widely distributed malicious threats within secured system networks.
As per the cybersecurity investigators, malware authors are exploiting security-vulnerable systems with a two-pronged attack, distributing data-stealing malware through the Fallout exploit kit before releasing the nasty file-encrypting variant of Gandcrab ransomware family onto the infected host.
What's particularly threatening about this attack campaign is that it uses the latest Gandcrab ransomware variants that encrypt all the stored files and locks down the victim's entire system in mere seconds.
In the meanwhile, Vidar gathers a wide variety of personal and sensitive information such as banking details, saved passwords, IP addresses, browser history, login credentials, and send it to the cybercriminals via command and control (C&C) server.
Gandcrab ransomware, on the other hand, after encrypting users' data leaves a ransom note, providing instructions about the payment methods for the alleged restoration of locked files.
How Does Vidar Steale Infiltrate Your Computer?
This Vidar Stealer Trojan virus is usually distributed by 'malvertising' (use of online advertising to distribute malware) campaigns, whereby hackers lure innocent users into clicking URLs or pop-up ads that redirect them to malicious websites. The Fallout exploit kit is also another commonly used tactic by hackers to proliferate Vidar Stealer. To invade targeted computers, this kit uses various exploits that target the Internet Explorer browser and Flash Player. 
How to Avoid Installation of Vidar Trojan & Other Malware?
To keep your computer systems safe from harmful infections like Vidar Trojan, try to keep your operating systems and other installed software or applications updated at all times. Doing this will halt download processes using known exploits and causing damage to your system.
Apart from this, make sure a powerful ad-blocker and web protection software is installed on your PC: these can help to avoid being redirected to unsafe, malicious, and suspicious third-party websites by ' malicious advertising' campaigns. If you believe that your laptop or desktop computer is already infected with a malware or virus infection, we advise you to run a full system scan with a trusted malware removal tool to eliminate infiltrated malware.