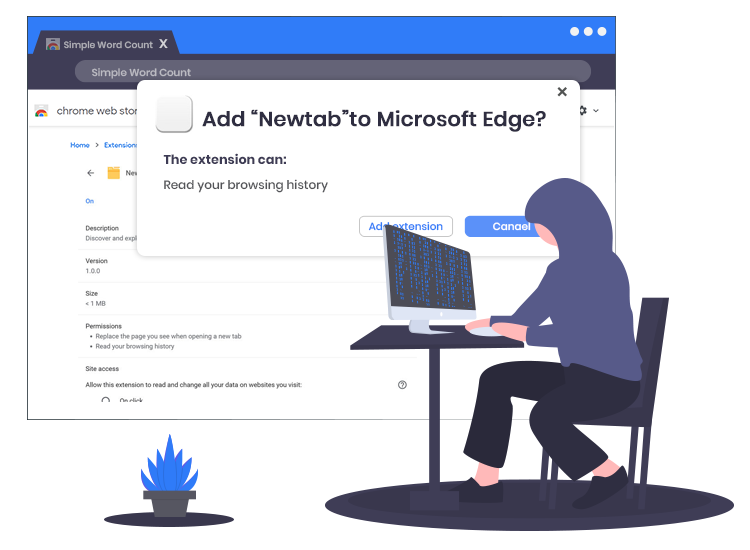 New Tab Explorer is a PUA (potentially unwanted application) categorized as a browser hijacker. Applications within this category usually come bundled with popular free software programs as an extension and then hijacks the internet browsers (Chrome, Firefox, Edge Opera, Safari, and many others) that are installed on the user's system.
Upon installation, the New Tab Explorer browser hijacker alters the users' preferred browser settings (such as homepage or search engine) in order to promote the address of a fake search engine – fxsmash.xyz.
At first glance, you may find the altered search engine page extremely useful and convenient because of its ability to provide quick results, but it turns out that this browser hijacking application brings significant harm. This fxsmash.xyz fake web search engine can constantly redirect you to dangerous scam/ third-party websites that contain sponsored ads or links.
If your browser is generating misleading results or redirecting your search queries to unfamiliar web domains, then read on to find out how to remove this browser hijacker from your computer and restore your default browser settings.
New Tab Explorer Browser Hijacker: Everything You Need to Know
This a browser hijacker or redirect virus that can infiltrate the computers of targeted users without their permission or knowledge. Upon installation, it alters the default settings of the homepage, new tab, and search engine of the victim's internet browser to promote fxsmash.xyz, an address of a fake search engine.
The sole purpose of browser hijacking apps such as this one is to generate advertising revenue by delivering sponsored results or redirecting user searches to questionable sites.
Like SmartDD App, Pick Color, MagicMovieSearch, and countless other browser hijacking apps, New Tab Explorer can track and even collect details about its victims' browsing history and online activities.
Common Symptoms of New Tab Explorer Browser Hijacker
Following are the most common symptoms or signs your computer system may show in case of hijacking.
Default homepage and search engine settings are manipulated without your approval.
Constant redirections to unfamiliar and questionable web pages.
Browser is showing bogus results.
Lots of unwanted advertisements or pop-up windows keep appearing out of nowhere.
How to Remove New Tab Explorer Browser Hijacker?
If your internet browser has been hijacked by this pesky hijacker, the best way to get rid of this infection and all its associated files is to perform a full system scan using a potent malware removal tool (anti-malware).