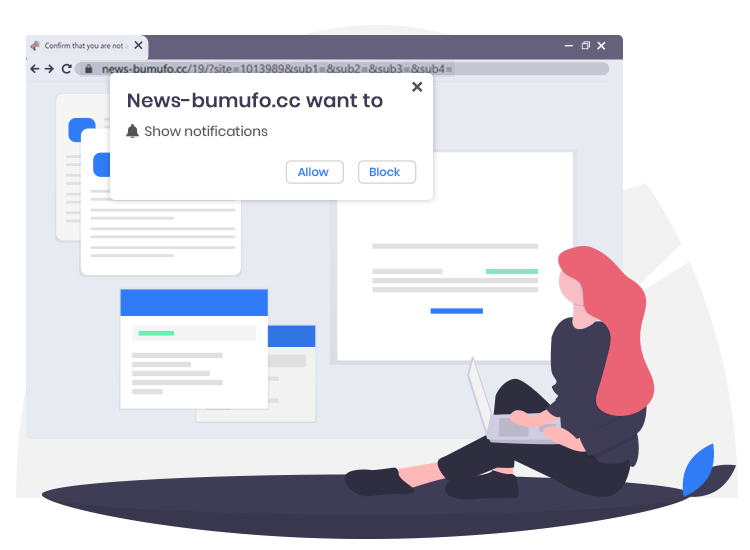 If you want to fully eliminate these annoying News-bumufo.cc pop-up ads, then scroll through this article below to learn how to do so.
News-bumufo.cc is a socially engineered site that users often encounter at any time during web sessions on popular internet browsers like Google Chrome, Mozilla Firefox, Microsoft Edge, and Safari. This dubious domain is designed to use various misleading strategies (clickbait, fake captcha verification, etc.) to make visitors subscribe to its push notifications service.
Potent cyber offenders use these push notifications to bypass ad-blocker programs so that they can send out lots of unwanted deceptive pop-up advertisements directly to the victim's desktop. These News-bumufo.cc pop-up ads are generally used to promote questionable apps, free gifts scams, adult websites, etc.
What is News-bumufo.cc? 
News-bumufo.cc is one of the phishing portals used by scammers to fool you and other unsuspecting visitors into registering for its push notifications service.
Like Gate14.xyz, Acancyfopl.biz, Trippleforward.best, and many other similar websites, News-bumufo.cc displays a misleading "Show notifications" pop-up prompt in order to trick innocent people into clicking the 'Allow' button.
When users click on the 'Allow' button, they start seeing intrusive pop-up ads from this site on the desktop even when the web browser is closed.
It is important to note that most users do not open web pages such as this one intentionally. Typically, users end up visiting such pages through other scam websites, untrustworthy advertisements, and potentially unwanted applications (PUAs).
The sole purpose of the developers behind such phishing portals is to make illicit revenues by redirecting innocent users to the affiliate or shady pages.
How to Remove News-bumufo.cc Pop-up Ads from PC?
Follow the steps shared below to remove News-bumufo.cc pop-ups and notifications from your Google Chrome browser.
Press the Chrome's main menu button (three dots) on the right upper corner and click on Settings.
Next, go to the "Privacy and security" section and click on Site Settings.
After that, go to the "Permissions" section and click on Notifications. 
In the last step, find the News-bumufo.cc website in the Allow list. Once done, select the same and click the three vertical dots button next to it. Then, unsubscribe from its notifications by clicking on "Block".
It is worth mentioning that blocking URLs of suspicious sites from a browser doesn't help in fully eliminating annoying pop-ups and other problems. Therefore, affected users are advised to perform a full system scan using a powerful antivirus or anti-malware tool to find and delete all adware remnants.