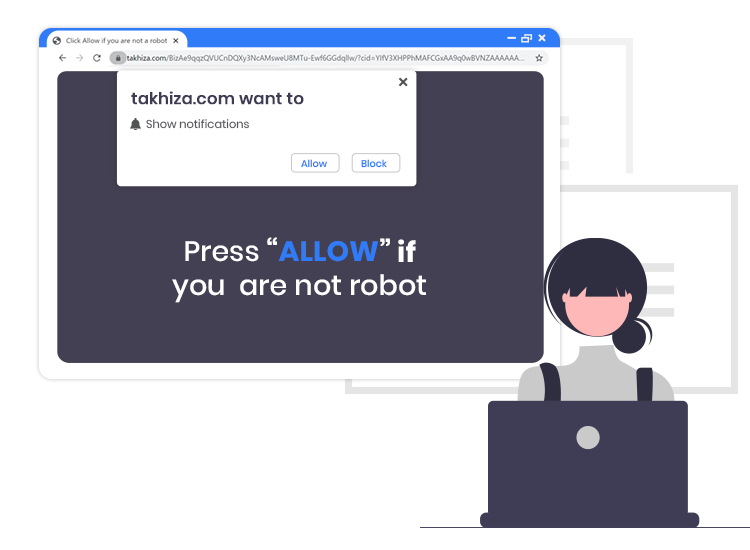 The Internet is filled with a vast amount of untrustworthy/ scam websites and Takhiza.com (pop-up ads) is one of them. The professional computer security specialists have determined that Takhiza.com site deceives unsuspecting visitors into subscribing to its push notifications by employing an array of social engineering techniques, including fake CAPTCHA verification and clickbait.
Typically, these push notifications are used by scammers to bypass pop-up blocker software and show a large amount of unwanted and intrusive adverts. These Takhiza.com pop-up ads usually appear in the lower-left corner of the desktop screen and urge affected users to play online web games, visit adult sites, and install dubious browser add-ons and other unwanted programs.
Read on to know about this dodgy site in detail and how you can remove Takhiza.com pop-up ads from your computer in the easiest way possible.
What is Takhiza.com?
This is a web page which attempts to mislead users into accepting the site's browser notifications request so that it can deliver intrusive pop-up advertisements straight to the computer system. There are many other questionable web pages similar to Takhiza.com, for example: Xtmonthifth.fun, Captchareverse.com, and Bellowforwardstep.me. 
The end goal of publishers behind such pages is to force hits to a particular website so that they can enjoy higher advertising revenue.
The important thing to note here is that users do not visit pages like Takhiza.com intentionally; most get redirected to them by installed PUAs (potentially unwanted applications) or redirects caused by deceptive advertisements.
When visited, Takhiza.com and other similar websites display a "Show notifications" message, asking you to click the Allow button to subscribe to notifications.
How to Remove Takhiza.com Pop-up Ads
Below we have provided step-by-step instructions on how to stop seeing these pop-up advertisements on the Google Chrome browser.
First, you need to open the Google Chrome browser.
On the top right corner of the browser window, click on the Customize and control Google Chrome menu (three vertical dots).
Then, navigate yourself to the Settings > Site settings > Notifications.
Under the Allow section, find the Takhiza.com site URL. After that, click the three dots button next to it, and then select the Remove option.
Apart from following the aforementioned steps, we urge you to use a strong and competent antivirus/ anti-malware software of a reputable company and perform regular scans for malware and other privacy threats.