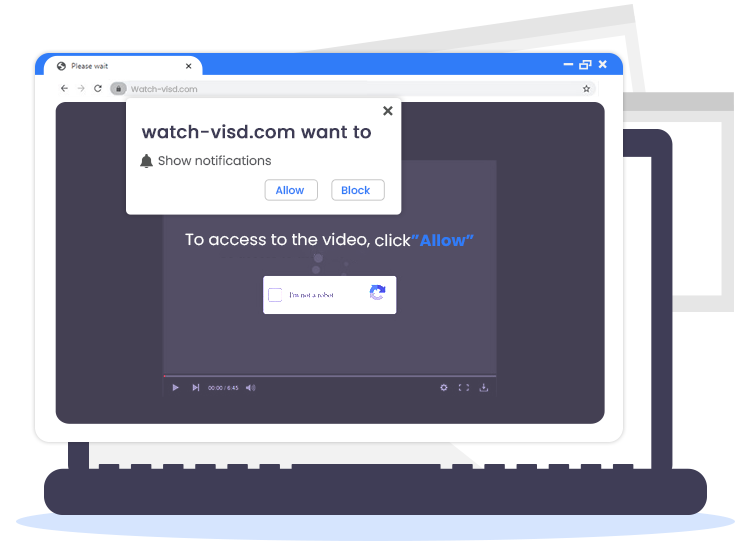 Watch-visd.com pop-up ads come from a misleading/rogue website considered as adware. It is designed by a group of hackers in order to trick novice users into registering to its 'Push Notifications' or 'Browser Notifications' service.
The push notifications are generally employed by website creators and developers to alert users of recently published blog posts, offers, and other latest developments. Nowadays, cybercrime masterminds are abusing this 'push notifications feature' to evade antivirus software and ad blocker software to send sponsored or potentially malicious advertisements directly to the victim's desktop.
If you are one of those unlucky users, you can use our guide to get rid of the Watch-visd.com pop-ups and remove the adware infection from your computer safely.
What is Watch-visd.com?
Watch-visd.com is a bogus website designed to fool users into allowing notifications by displaying deceptive messages, such as Click "Allow" to start downloading, Press "Allow" to watch the video, Click "Allow" to enable Flash Player, Press "Allow" to connect to the Internet, Click "Allow" to verify that you are not a robot, and so on.
Once the "Allow' button is clicked, the Watch-visd.com starts running intrusive advertisement campaigns in the form of pop-up ads, banners, coupons, fake software update alerts, etc.
There are thousands of other sites of this type: Silvermilk.xyz, Onemacusa.com and Digitalcaptcha.top are just some examples. 
Redirecting web traffic on sponsored websites and making an illegal profit via pay-per-click advertising schemes are the two most common goals of crooks that are responsible for the creation of such rogue web portals.
How to Remove Watch-visd.com Pop-up Ads from PC?
In order to stop seeing Watch-visd.com notifications and pop-ups on your Google Chrome browser, follow the instructions given below:
Start Google Chrome browser, select the three dots icon from the upper right corner, and then click on "Settings".
Next, click on "Site Settings" option (you can find it under the "Privacy and security" section).
Next, click on "Notifications" option (you can find it under the "Permissions" section).
In the last step, you have the press the three dots button next to the Watch-visd.com URL and select the "Remove" option.
After successfully executing the above steps, you are advised to employ some powerful anti-malware tool for performing automatic scans and remove all types of malware, including advertising-supported software (adware).