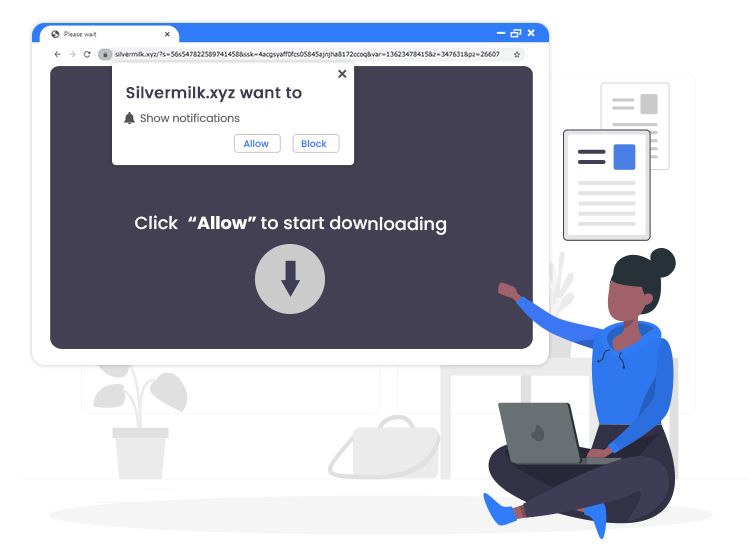 According to cybersecurity professionals, Silvermilk.xyz pop-up ads in your internet browser are a result of adware penetration. You are advised to carefully follow this article to the end to get rid of the adware infection and remove Silvermilk.xyz pop-up notifications from your browser.
There are a large number of websites on the internet that are created for the sole purpose of manipulating and scamming innocent visitors into doing something that they intentionally do not want. Silvermilk.xyz is one such website. It is created by fraudsters to trick people into subscribing to its push notifications feature by displaying misleading prompts. The singular motive of the threat actors behind rogue websites like Silvermilk.xyz is to earn money by displaying random advertisements.
What is Silvermilk.xyz?
Silvermilk.xyz is a rogue webpage, similar to Onemacusa.com, Digitalcaptcha.top, Special-for.me, and thousands of others. It mainly uses social engineering tactics to trick visitors into accepting its notifications via the browser.
Upon entry to this rogue site, visitors are asked to click the "Allow" button within the "Show Notifications" prompt. Once clicked, the Silvermilk.xyz pop-up ads and notifications start showing up at random in the right bottom corner of the affected user's desktop.
A key point to note here is that users do not open or visit rogue sites such as this one intentionally. They often land upon pages of this kind via redirects caused by other untrustworthy pages, intrusive advertisements, or installed potentially unwanted apps (PUAs).
How to Remove Silvermilk.xyz Pop-up Ads from PC?
Below we have shared step-by-step instructions on how to block or remove the Silvermilk.xyz push notifications from your Google Chrome browser.
Open Google Chrome and go to the three vertical dots icon at the top right corner of the browser window.
Next, you need to select the "Settings" option from Chrome's main menu.
Now you have to find and select the Site Settings > Notifications option.
Now you can delete Silvermilk.xyz and other suspicious URLs by pressing the three vertical dots icon next to each and selecting the "Remove" option.
After removing the Silvermilk.xyz URL, you are advised to scan your compromised system with a strong anti-malware tool to automatically identify and eliminate the advertising-supported software (adware) and other notorious infections.